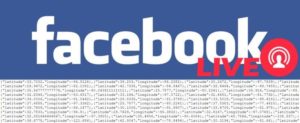 Earlier this morning, Alan Parks told us why, as authors, we should be using Facebook Live!. Personally, I love the idea, so I decided to give it a try. During the process, I ran into some interesting challenges, but with the help of the IU minions, we had some successful experiments. We learned quite a lot about the nuances of it and thought these would prove helpful to others just getting started. So, here are some tips on how to make your Facebook Live! Broadcast go off without a hitch.
1. Like Alan told you, go to the group, page, or timeline you want to broadcast from. You have to be using a smart phone or a tablet. This will NOT work from a computer or laptop. Once you are where you want to be, touch where you would normally write your post. This screen, which you should be used to, will come up: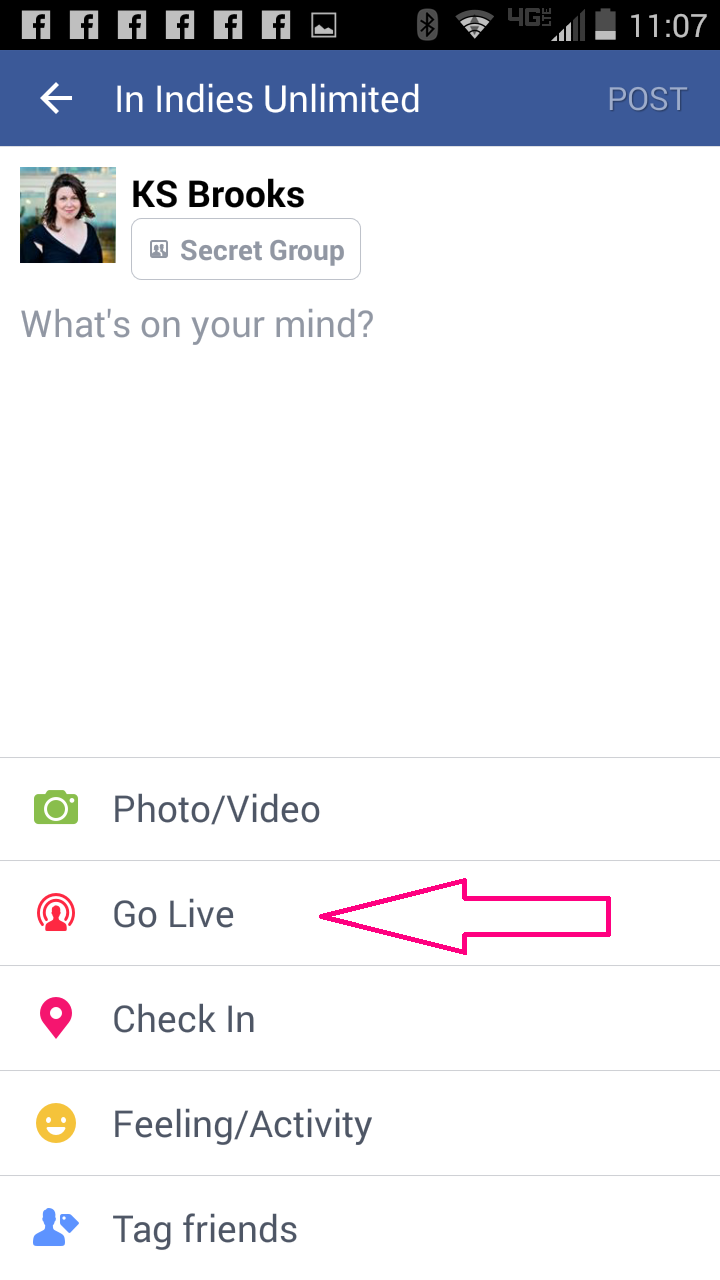 Tap "Go Live" (pink arrow above) and this screen will come up: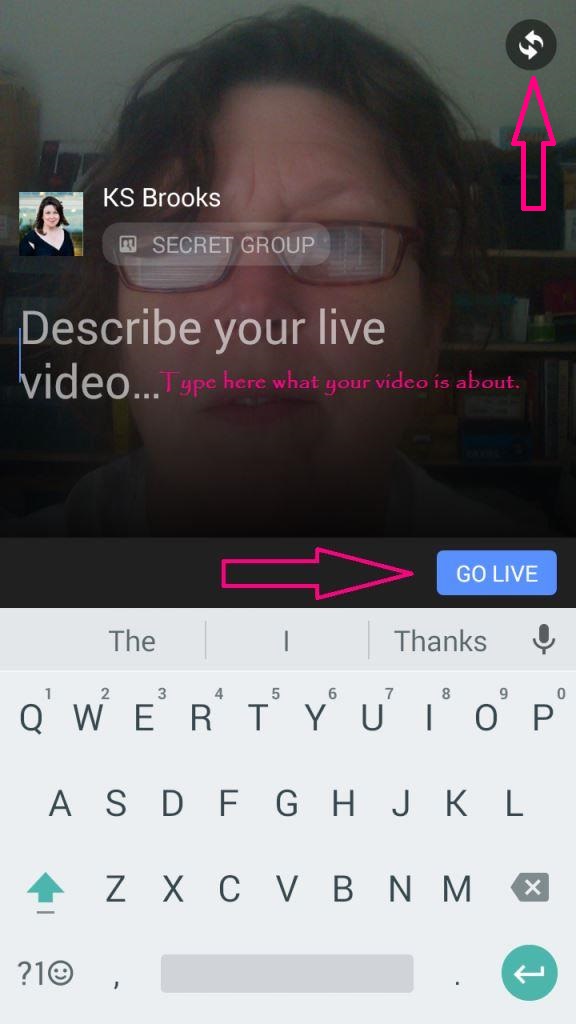 2. The screen above will give you a preview of how you will look – if you decide to have the camera pointed at you. If you decide you'd like to show something besides your gorgeous face, you can press that little "turny thing" in the upper right-hand corner (see arrow above) which will turn the direction of the camera away from you. (Interestingly, you can change the angle from selfie to standard and back ALL while you are live. Pretty cool.) This screen is also where you type the title of your video. Be forewarned, once you press the blue button "GO LIVE" – YOU ARE LIVE. Make sure you are set up before then and that you have gotten that spinach out from between your teeth already! Note: Keep your device in portrait mode. Turning it sideways will, well, turn you sideways. Experiment before you hit that blue button!
3. Once you're live, how do people know? There are a few ways:
a. A notification "So-and-So is live!" will show up in their feed – they need to click on that to get to your video.
b. If the broadcast is set for a specific time, and is in a group, they will need to refresh their screen.
c. You can send people invitations WHILE you're live! See circled area at the bottom of the screenshot below.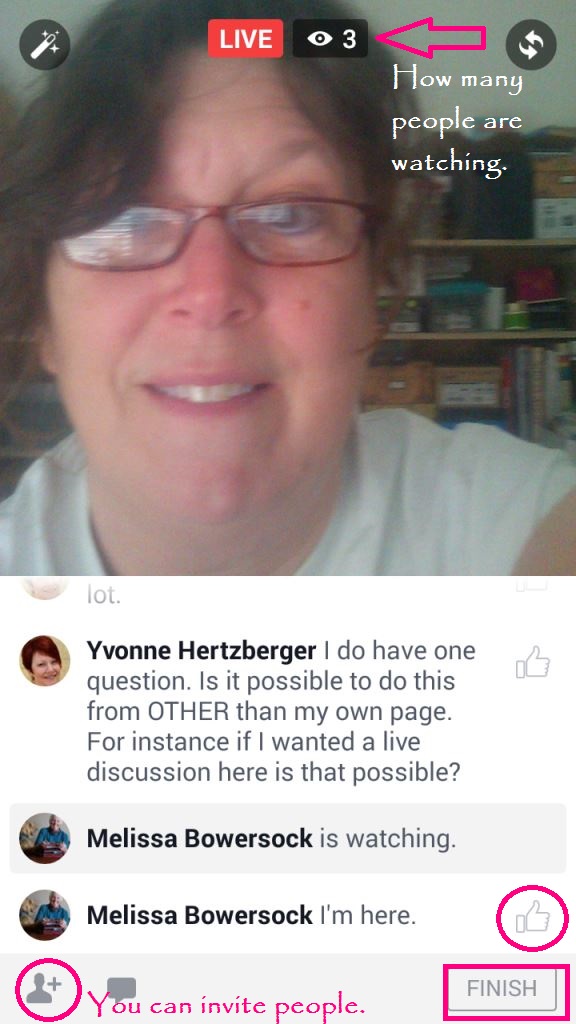 This is the screen you will see while you are live. The people watching (you can see how many people are watching at the top of the screen) can comment on your video with questions while you are live, and you can verbally answer them. You can also "like" their comments and questions while you're live. When you're done, just click "Finish." But wait, there's more.
4. What happens if you have messenger on during your Live broadcast? It will show up on your screen (no one else can see it, just you). What if you get a phone call? Well, it will pause your broadcast. Not kidding. And when you hang up from the call, you will get this screen: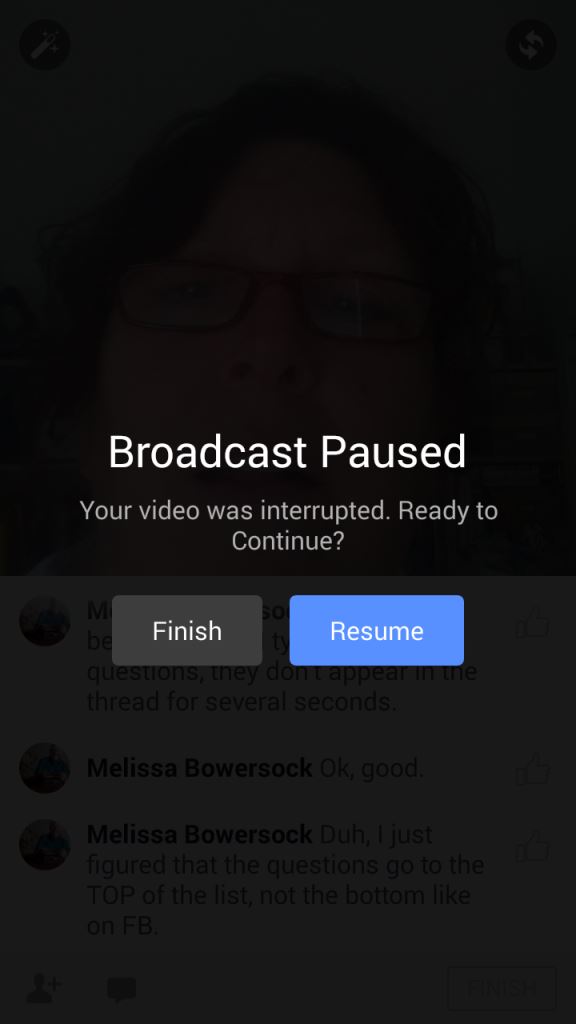 I do not know how to prevent my phone from getting calls, so if you do, I'd suggest using that setting before you go live. By the time I got rid of the person on the other end, and resumed, I'd lost a viewer. What a dog-eat-dog biz this is!
5. When you're finally done, click finish in the bottom right-hand corner (see the screenshot in #3 above) and you will get this screen: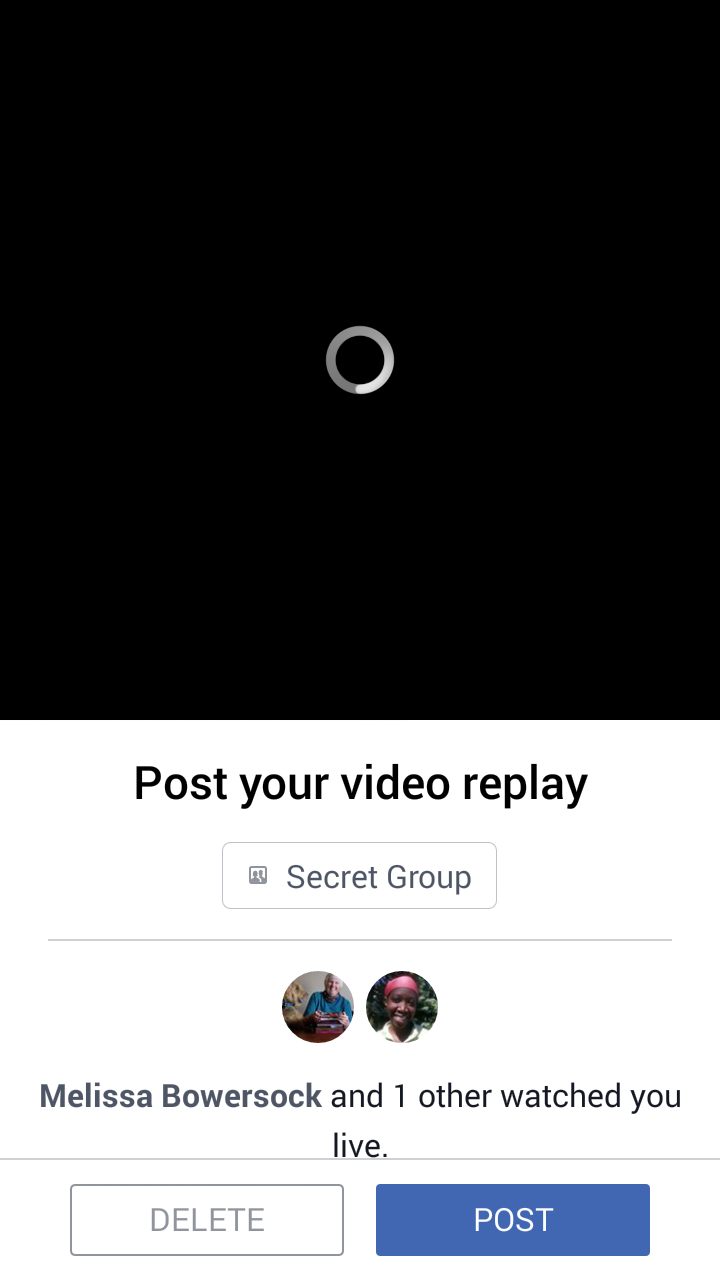 So, if you want the video of your recording to be saved for posterity, click post. Once you do, this is what you'll see: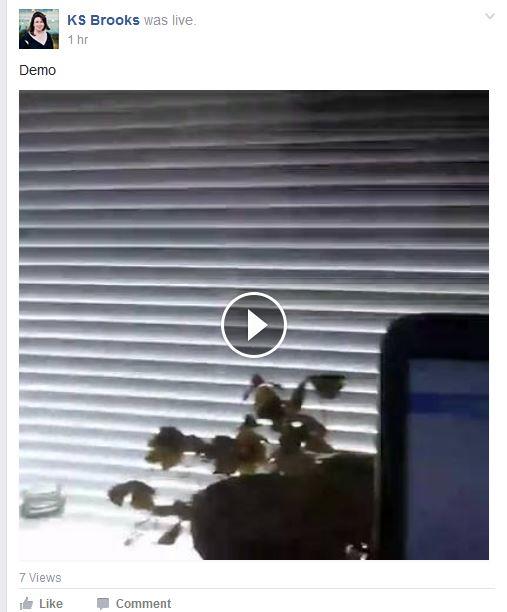 So, people who come along after your broadcast is over will be able to watch it. Hopefully they'll want to tune in next time! As far as I know, there's no way to control what screen is chosen for your video still. This was from one point when I was playing with the "non-selfie" angle.
That should hopefully give you enough information to go bravely into Facebook Live! territory. Have fun with it.