Late last year, Amazon began offering authors the option of publishing both their eBooks and paperbacks through Amazon. Previously, authors wanting to publish paperbacks had to use CreateSpace, an Amazon-owned company that required a separate login and tax information. Today, we'll look at how that process works, so you can decide if it's something you want to try.
While I'm always a bit leery of new things, I was really excited about the idea of seeing both paperback and eBook sales on the same dashboard. I decided to give Amazon's paperback publishing a try with one of my recent titles, Prophecy of Light-Foretold. Here, I'll give you the breakdown of the process.
First Impressions. If you've ever used CreateSpace to produce a print book, the look and feel of the Amazon interface will be both familiar and jarring. It's familiar because you've heard the terms before (trim size, paper type, bleed). However, Amazon's input screens look different. Amazon has designed the paperback information input screens to look exactly like the three-screen process Amazon uses for eBooks. For paperback, the three screens are (1) Paperback Details, (2) Paperback Content, and (3) Paperback Rights & Pricing.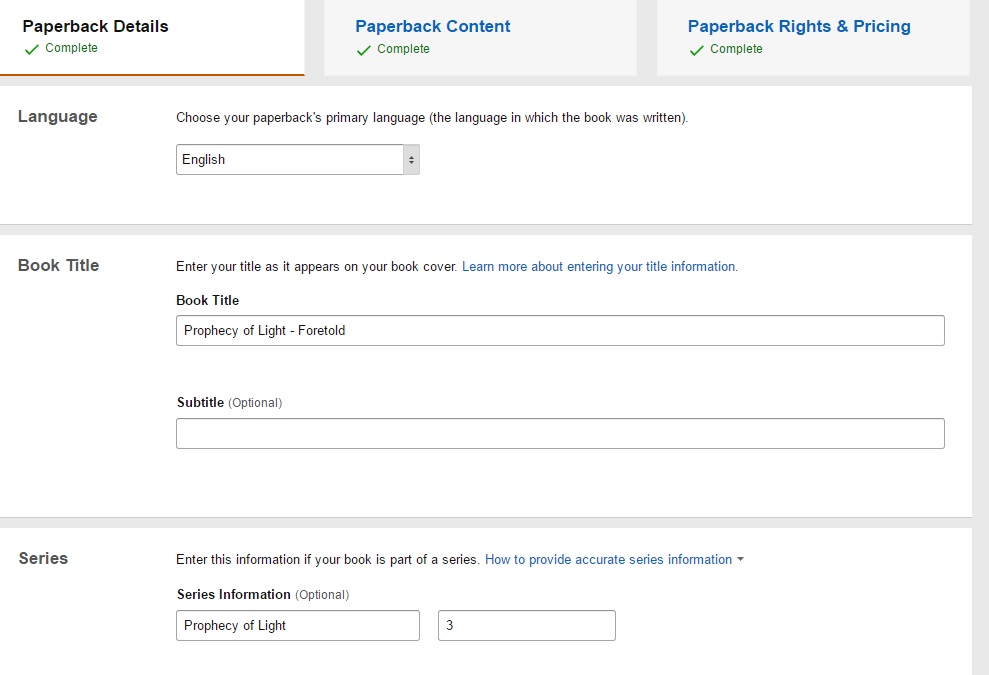 Once your brain gets over the differences in look from CreateSpace, it's a fairly easy process. What is awesome is, if you've already created the eBook, Amazon just imports all relevant data for the paperback. You don't have to re-type the book's name, your author name, description, or key words. All that stuff is automatically imported into the Paperback Details section. At the moment, Amazon asks if the book has already been published on CreateSpace. This is because they can bring your CreateSpace book over to Amazon publishing. I did not do this, so I don't know if this works well or not.
Nitty Gritty. After you finish the Paperback Details screen, you go to the Paperback Content section. This is the nitty gritty of your book. This part requires the most time and is the bulk of what will be published. You can get an Amazon-assigned ISBN or provide your own ISBN. Then you pick your book options, including the trim size (5×8, 6×9, etc.), paper color, book content file, cover, and other properties. This differs from CreateSpace, because that company asks these questions over several screens. Having it all on one screen means everything needs to be finished before moving forward. If you're not familiar with the publishing terminology (such as trim size or bleed), there's a link describing what they mean. Having used CreateSpace to publish print books before, I found the explanations sufficient. If you've never created a print book before, it's possible the explanations aren't super clear. They are fairly short. On this screen, you also upload your book file. If you are used to formatting yourself, Amazon has templates you can download (click the help links for this section). They appear to be the same templates CreateSpace uses. I compared the one I downloaded from Amazon to the one I had previously downloaded from CreateSpace and could find no differences.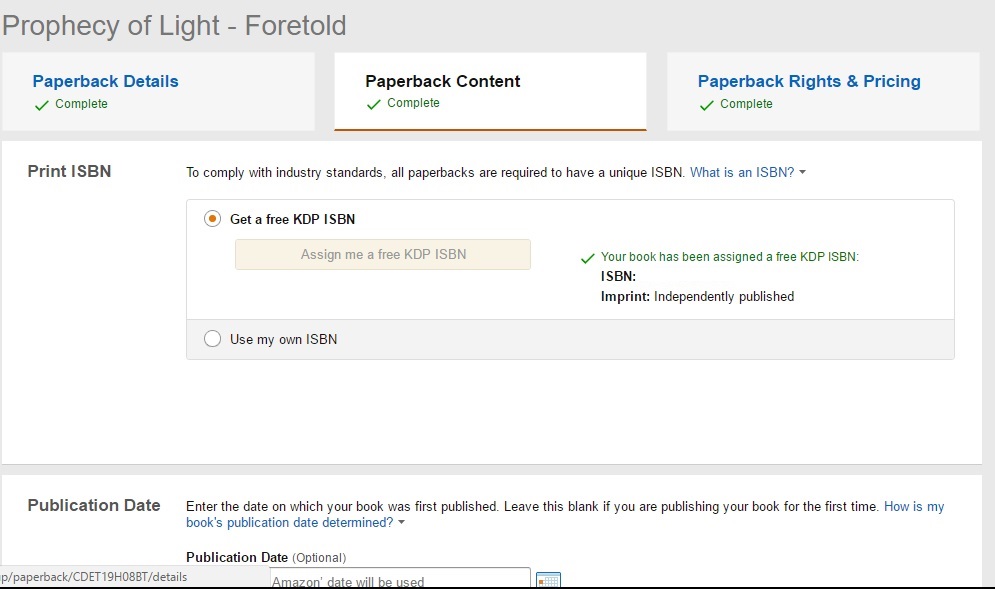 Like CreateSpace, Amazon Publishing has a cover creator that allows you to create a cover online. This one is better than the CreateSpace cover creator, because it allows you to upload your eBook front only. The cover creator will make the back using a solid color you pick (presumably one that goes with your front). If you are doing the cover yourself for CreateSpace, you have to upload a cover image that is both front and back. The Amazon one is nice because you upload the front and create the back online, copying and pasting your description text onto the back of the book. The only part of this that was a bit confusing was the author photo. Amazon automatically includes a spot for the author image on the back of the book. I did not want an image, and I couldn't figure out how to get rid of it on the template. As it turns out, if you don't upload an author image, nothing will appear there. However, I didn't realize this until after I'd closed the cover creator and saw the image icon was gone because I hadn't uploaded one.
The Paperback Content screen also gives you the chance to digitally preview your paperback, and confirms your book dimensions.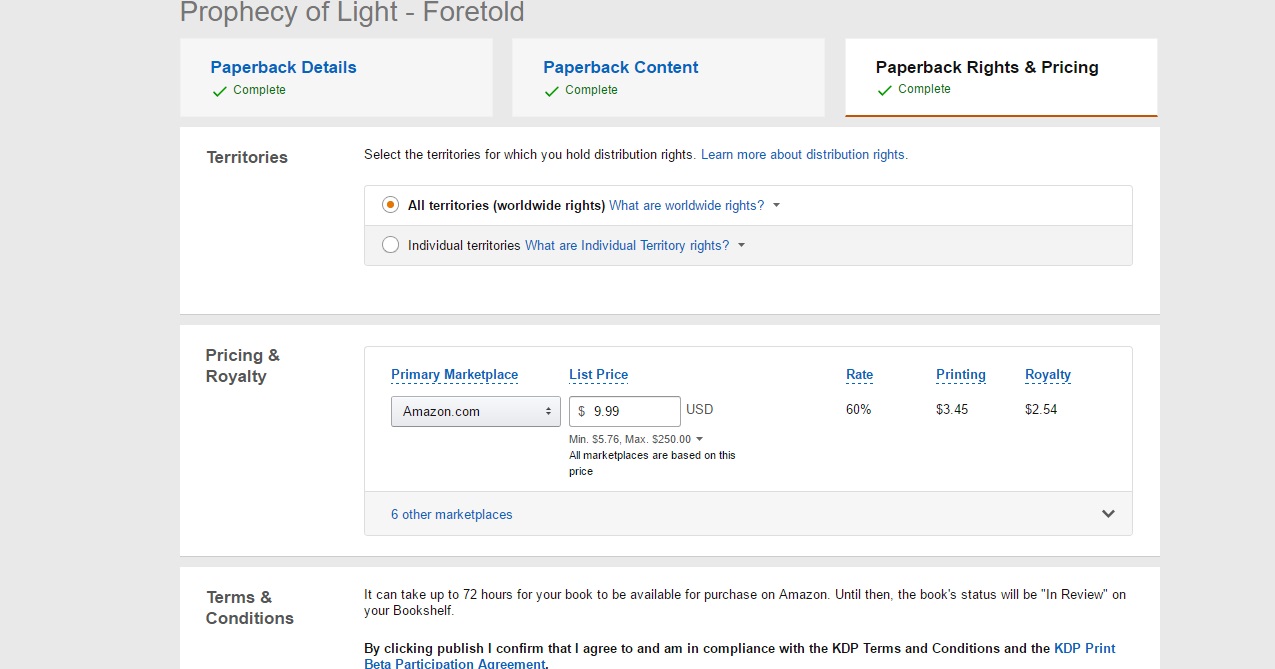 Where It Falls Apart. The final screen, after you've gotten your cover and interior files loaded, is called Paperback Rights and Pricing. It contains three items: (1) Territories, (2) Pricing & Royalty, and (3) Terms and Conditions. In terms of territories, Amazon publishing only sells its books via Amazon sites. There is no expanded distribution, so your paperbacks won't be available to libraries, Barnes & Noble online, or other online retailers. In terms of profit, it's essentially same as CreateSpace. My recollection is you have to use a price calculator to figure out your profit on CreateSpace. For Amazon's publishing unit, they give authors 60 percent of list price, minus publishing. This equates to what you'd get at CreateSpace.
The last thing on the screen is the button to publish your book. However, before publishing, I wanted to order a proof copy. I looked and looked but found no place to order my hard-copy proof of the book. No matter how much I looked, I couldn't find the link. I emailed Amazon to find out if I was just missing the button. I've overlooked the obvious before, so wanted to make sure I hadn't had a major brain fart in this arena. But the response confirmed that Amazon doesn't offer a paperback proof, or discounted author copies. That's when I abandoned the process. I occasionally attend conferences and festivals where I sell my books in person. I need to be able to have copies I pay $3 to $4 for, so I can sell at other places. Paying full-price for my own books via Amazon is just not going to work for me.
Verdict: If you want all your print and eBook Amazon sales visible on the same interface and you're comfortable without having a paper proof copy, and don't mind paying full price for print copies of your book, try Amazon's publishing arm. If those drawbacks make you balk, then go with CreateSpace. I will say Amazon did a great job at making the process and screens really similar to the way it is for your eBook. Even though the process was fairly streamlined, if you've used CreateSpace before, I think you have a real sense of what the choices are (cream vs. white paper, bleed, etc). My only stumbling block was not being able to get print copies, either as proof versions or author copies. The Amazon representative who told me Amazon did not offer paper copies said that was coming in the future, but did not say how far in the future that would be. When Amazon brings this feature, I'll definitely try using their service.