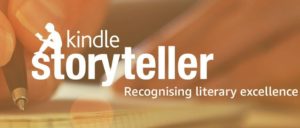 The Amazon UK Kindle Storyteller Award is open for entries. The Kindle Storyteller Award is a new literary prize recognising newly published work in the English language across any genre and includes a £20,000 prize.
The prize is open to all authors around the world who publish their book through Kindle Direct Publishing on Amazon.co.uk between 20th February and 19th May 2017. The Kindle Storyteller prize is open to submissions of new English Language books from all authors and genres. Titles must be previously unpublished, a minimum of 5,000 words with no upper word limit and be available as an eBook and in print.
Deadline: May 19, 2017
Entry fee: FREE
Prize: The winning author to receive £20,000 cash prize and be recognized at a central London award ceremony this summer.
For more information, please visit their website.
*     *     *     *     *
Indies Unlimited is pleased to provide this contest/submissions information for the convenience of our readers.  We do not, however, endorse this or any contest/competition.  Entrants should always research a competition prior to entering.