Yes, we know we're a little late. So sue us. In any case, these books deserved a spotlight even though our admin has been busy. So, without further ado….
Indies Unlimited does not review books, but we do have a couple of renowned reviewers on staff. We thought a great way to celebrate indie writing would be to ask those reviewers for their top indie picks of the month. Here are this month's top picks from our experts:
---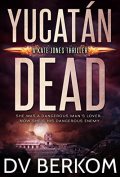 Yucatan Dead by DV Berkom

"The usual suspense, tension, explosiveness … and gutsiness are packed tightly into this … novel…"
Read the rest of the review by Cathy Speight.
Yucatan Dead is available through Amazon.com.
Continue reading "Indie Reads – March 2017"