Here we are, once again! The other day, I covered some of the basics about Kickstarter. By now you should have figured out what you're campaigning, how much it's going to cost you, what Kickstarter amount you'll need to reach your actual goal, what rewards you're going to have, and how much all of this is going to cost you on the back end in fees, shipping, packaging, and production. Congratulations! You've made it this far, but the fun isn't over yet. There are still a couple things you need, or should at least consider, before you make your Kickstarter campaign. So that I have something to give you as a reference, this is my Kickstarter that is currently running. Later I'll have screenshots of the before process, but I wanted to give you the finished result to gauge by.
The Video Introduction
Do you need to do this step? Well, as Kickstarter puts it, Though videos are not required, we strongly encourage making one. More than 80% of projects have videos, and projects that don't tend to have a lower chance of being successful.
Personally, I made one and it's not as painful as it sounds. The goldfish-like attention span that society has will make you want to limit the video to around two to three minutes. You'll also want to have a portion with you on camera, being honest and telling your story. This part is important; people need that connection with the creator, they need to see and hear you, so that they can relate to you. The difficulty, for me, was thinking of a compelling way to show a book cover for a few moments. Find yourself some free sounds and music online (make sure it has no copyrights) and work your magic! (Our video trailer resource page has royalty-free sounds, images and more here.) I've seen arguments back and forth about not using the camera on your phone to record yourself, but honestly I doubt it matters. I think it's fairly reasonable to assume that most people pitching a Kickstarter are not in a financial place to have high-quality recording equipment…. unless they are pitching a film.
Miscellaneous Images
This is definitely optional, but I suggest you do it. Toss some pictures in of the items you'll have in your reward tiers, maybe make a small banner for each section – things that make your Kickstarter more presentable. If you're not great with the image making, contact me and I might be able to help out.
On to the Website!
So, now you should have everything you need. Let's head to Kickstarter! Given the way websites like to move things around every couple months, I'm going  to jump ahead of where you've made your login and hit the button/link/whatever it is to start a project. The next couple of images are simply to show you what you should be looking at, and are pretty self-explanatory.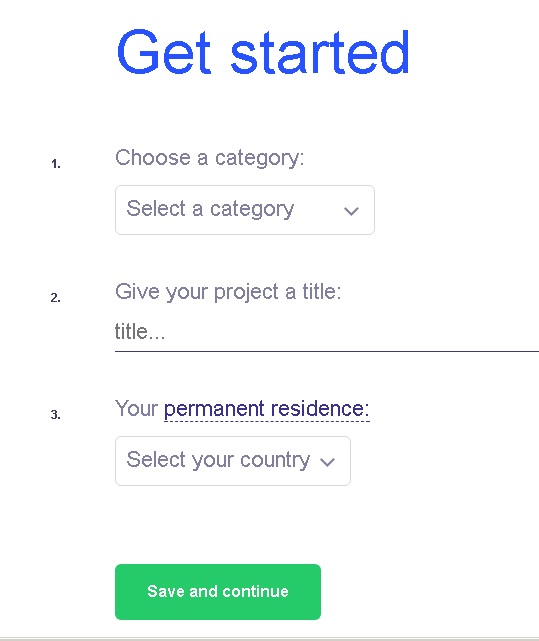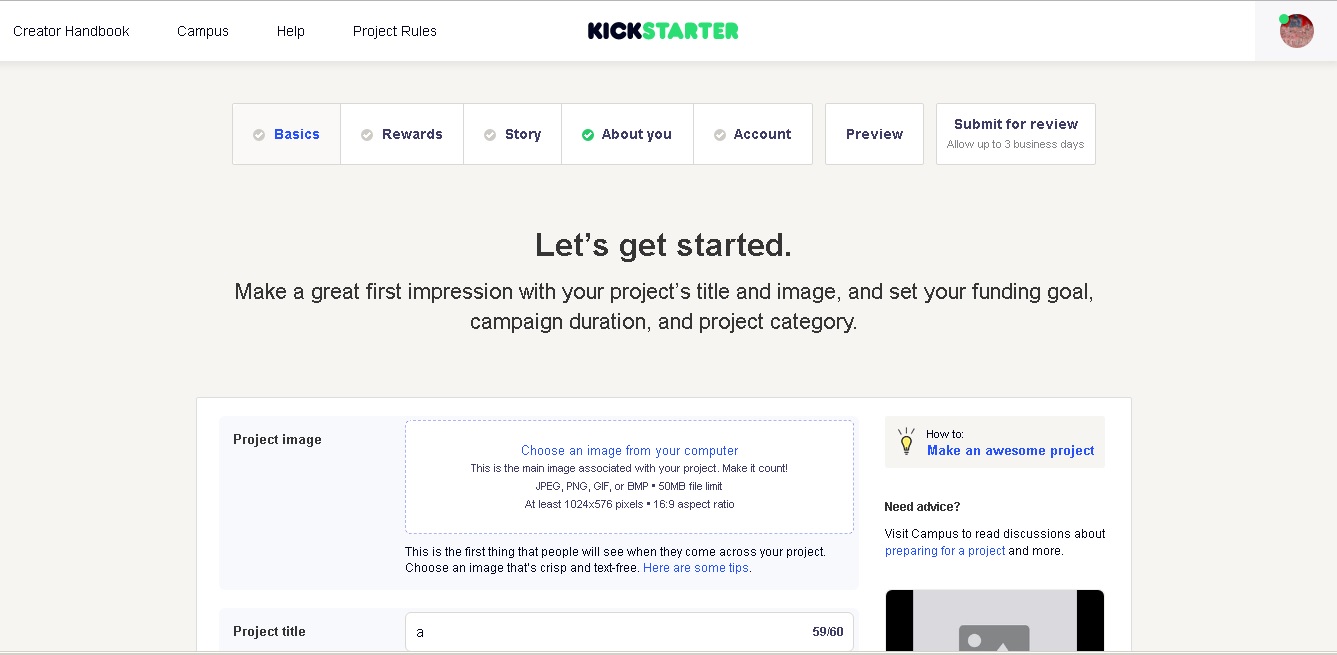 Most of these sections (Basics, Rewards, Story, About You, etc.) are easy enough to understand that there shouldn't be a need to walk you through every step of the way. Under basics you have "Project Image," "Project title," "Short blurb," and so on, with their subsequent blank to fill in. However, I will hit on a few less obvious points.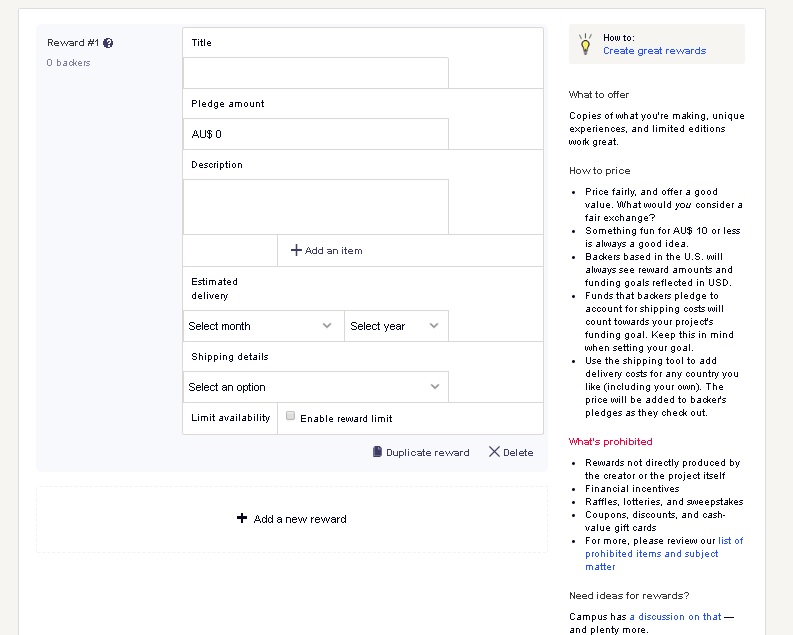 This is the rewards screen. Most of it is exactly what you see. What I'd like to point out are the "Add an Item," "Estimated Delivery," and "Limit Availability".
Add an Item is only to list them on the reward tier; you aren't uploading an eBook, images – nothing like that. Pick some obvious names, because these will not only help the backer know what they are getting, but help you remember what reward tier gets what.
Estimated Delivery is what it sounds like, but the point I'd like to make is to give yourself a buffer here. For example, I know Createspace will argue with me on my book cover. They like to tell me crazy things, like the title isn't on the book cover. So, I'm setting my delivery date out a month-and-a-half after the campaign ends, because it'll probably take me a week just to get the book approved, another week or so to get a proof to look at, and then a couple more weeks to get everything ordered and shipped to me. I can always ship early and, worst case, if I go over a little bit on time I can explain it to the backers. Most people are reasonable and understand that not everything goes perfectly with Kickstarter projects. Be honest, be open, and be transparent.
Limit Availability is in relation to the items themselves. I opted for this in two ways. The first was an "early bird discount." The first twenty people to purchase the tier which includes the paperback would get it five dollars off. Why? Because most people wait until the last second to pledge on these campaigns, and the closer you are to goal before then, the better. Everyone loves a crowd. I also used it for my upper tier reward. For $50 you get everything listed in the campaign, plus a limited edition, signed and numbered print of the book cover from the artist. It is basically the cover without my name and credit at the top, which makes for a much nicer picture. This version of the print will never be made again. Exclusive rewards are a big thing to backers. They are helping you bring something to life, and probably paying slightly more than they would for the retail version. Make it special. Sign those books, and try to give them things they'll never get otherwise.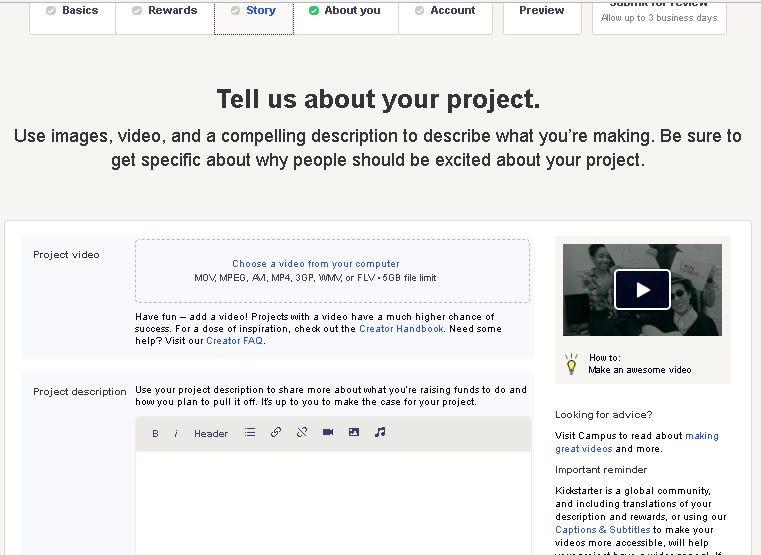 Here is where you upload your video and talk about the project. From the project description you can add images, sound clips, text, and even more video. This is the meat of the project, so spice it up!
There is one minor note I'd like to make, a warning if you will. You see how it says "Submit for review. Allow up to 3 business days."? Yeah, my project was live instantly. I was not at ALL prepared. I expected to have a day, or two, to prep ads, ask people to help share, and I all of a sudden I found myself scrambling to get it all done, while on the clock. So be prepared for this.
And there you are! Triple check everything and hit submit. If you think of something later, you can always change it while the campaign is running. I wouldn't suggest toying with the rewards, unless it's to add a new tier, or to clarify something, but everything else is free game.
**To Be Continued**