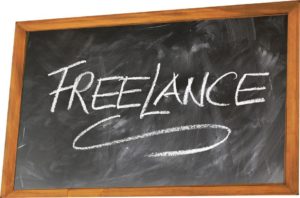 Guest Post
by Greta Burroughs
It is so frustrating to read blog posts and articles from folks proclaiming, "I made $1000 in one week by writing in my spare time." Why can't I do that? I'm not looking for any get-rich-quick schemes; I know better than that. I just want some writing gigs that will help pay the bills. I've spent the past year trying to break into the market, and I'd like to share what has worked (and not worked) in my quest to become a freelance writer.
Some of you may have thought about freelance writing, but don't know where to start, or if it's worth the trouble. Through my research, I've found out it is worth it. Many businesses, magazines, websites, and blogs depend on freelancers and will pay good money for quality work. The problem is getting your foot in the door. You need a portfolio with clips (published articles) from previous writing jobs, and know how to write a convincing query letter.
I worked as a freelance newspaper reporter years ago, but none of my articles are available online to use as clips. Therefore, I had to earn my credentials as I went along, starting with very low paying jobs. There are hundreds of legitimate platforms available for rookie freelance writers. Most of them are content mills where they find the clients, post the jobs, and the freelancer picks an assignment. I only made a few cents per word, but it did give me a few clips for the next step up.
Upwork is a content mill but instead of acting as the middleman connecting writer and client, the freelancer sends a proposal directly to the client for any job he or she is interested in. Many newbies have to send out a raft of proposals before someone considers them for a job. I was lucky. My fourth proposal hit pay dirt. I was fortunate to get a very nice contract working with a healthcare organization on a continuing basis for a decent wage. You have to be careful though; Upwork does not screen the jobs offered, so you have to choose cautiously to weed out the spam.
The best move I made was leaving the content mills and striking out on my own. I did gain experience and a few clips, but there was no future in it. I needed to expand my horizons and try to get some good gigs on my own.
My first step was signing up with Moonlighting.com. It was different, quite nice, and free. There are no go-betweens; clients post their jobs and freelancers list their services. I was very impressed with their platform, and I recommend it highly to everyone. Even if you have no intention of becoming a freelance writer, it can help bring in a few bucks during your downtime.
The best part is, it is not limited to just writing. There are categories for tech and web, handyman, family and pets, business services, and artisan, so as a freelancer you can find work utilizing other skills and hobbies you have – anything from walking dogs to building a website. Another benefit: you can also hire qualified people to help you out with projects as well. I wrote a blog post with links to sign up and post your job/service.
Between Moonlighting and my Upwork job, I'm moderately successful, but need more help breaking into the big time. I found it on Carol Tice's Make a Living Writing website. Carol has been there, done that, and explains everything you ever wanted to know about freelance writing, but didn't know who to ask. There's a lot to learn. It won't happen in one day, but once you get the hang of it, you'll love it. Her advice and tips led me to successfully query and snag my first gig writing an article for a higher paying magazine. I've also sent out other queries and have leads to more opportunities. I wish I'd discovered this guide before slogging through the penny-a-word circus. But then again, I had to start somewhere.
I hope my experiences will help anyone thinking about becoming a freelancer. You can learn from my trials and tribulations while choosing your path to success. Give it a go. Try it. I think you'll like it. I'm glad I persevered and made it this far. I may not be making $1000 per week, but I'm satisfied with myself. That's what's important, isn't it?
---

Greta Burroughs is a freelance writer and author of children's and MG/YA books. She and her husband, Robert DeBurgh, reside in the farmlands of coastal South Carolina with their four-legged children. You can learn more about Greta at her website and her Author Central page.