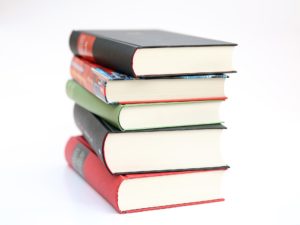 One piece of indie author advice that gets passed around a lot is, "Join a multi-author boxed set." According to some, joining a set can increase your visibility and get you in front of new readers and possibly earn some cash.
If a newbie writer is interested in boxed sets, what do you need to know? Here, we'll go through everything a would-be boxed set author needs to know.
What is a multi-author boxed set? It's just what the name implies. It's when several authors contribute a book to a set that will be sold in the same package to the consumer. Boxed sets tend to include anywhere from half-a-dozen up to twenty books. Sometimes a boxed set will be called an anthology, but the principal is the same. It's multiple authors contributing to a story to a set that will be sold as a single unit.
What's the reasoning behind the multi-author boxed set? People join these types of sets for three potential reasons: (1) more visibility/exposure, (2) to make a list, and (3) to make money. Almost every boxed set offers reason number one to join – more visibility. If you're in a boxed set with multiple authors, you're going to be more visible. Every author in that boxed set is going to send to their list of subscribers. That means, as a participant, you'll be introduced to the fans of at least five other authors. That's big. If the boxed set does well, that means several people who have never heard of you are now seeing your writing (and might buy your books). That's additional readers for everyone.
Making a list is a goal that some boxed sets have. The lists I'm referring to are best-seller lists, such as USA Today or NY Times (though the NY Times recently dropped some of its eBook lists, and some authors have

protested). When authors use a box set to try to make a list, the authors involved tend to have large mailing lists and usually plan to spend a significant amount on marketing to ensure they move enough copies to make those lists, which can require 10,000 or more copies be sold in a week. If list-making is the goal, some set participants may be okay with breaking even or making only a small profit, rather than big bucks. People like making these lists because they can then call themselves a USA Today Bestselling Author, or similar.
The final goal of making lots of money should probably be a goal of all boxed sets. However, if the emphasis is on visibility or list-making, making money from the boxed set may fall lower among priorities. For example, a set that wants to make money may not want to discount to 99 cents for an extended period to move more copies. Selling 10,000 copies at 99 cents (for 35 cents profit on each) nets $3,500, while selling 5,000 copies at a price that nets a $2 profit on each copy gets the authors $10,000. Depending on the set goal, different choices might be made. I've seen some sets that go wide for two to three weeks with the goal of making a list, and then go into KDP Select for three months, with the goal of making money with a combination of page reads and sales. So, they try to get the best of both worlds. A boxed set that's entirely about visibility may choose to be perma-free, giving away tens of thousands of copies so books get in readers' hands. Recognizing that every boxed sets has a strategic goal is important, so you can figure out what type of set you want to join.
How do you join a boxed set? That is the $64,000 question. The way you join a boxed set is to find other authors in a similar genre who want to be in a boxed set. Where do you find these people? Hang out where authors are, and be fast. There are some Facebook author groups that specialize in boxed sets (like this one). Also, people solicit boxed set participants on the Kboards Writers Cafe. If you happen to know some authors who you think would make great boxed set participants, then you can organize a boxed set yourself and solicit authors.
How much does it cost? It depends. Often, there is a buy-in to join the boxed set. The buy-in pays for the boxed set cover, book formatting, and marketing. Buy-ins can range from $50 to $500 (or more). This is why it is important to know the goal of the boxed set. Sets trying to make lists tend to have higher buy-ins. They're getting Bookbub ads, paying for Facebook marketing, and a whole host of other things designed to move enough copies to hit a list. Boxed sets trying to make lists are also harder to get into, with some sets requiring the participants have mailing lists of 10,000+ subscribers to be considered. Some boxed sets have no buy-in, with the organizer fronting the costs and paying out to authors only after the set expenses have been covered. Many of the boxed sets I've seen want a completely edited manuscript, so the author will have to pay for the edit, as they would with any other book. Some also want you to have your own cover, while others will include a cover with the cost of the buy-in. It all depends on the terms of the boxed set.
Are there any legal issues? The boxed set organizer will need to issue you a 1099 for royalties paid as part of the set, so you will need to provide tax information to that organizer. You should also sign a contract that explains the terms of the boxed set. Terms generally discussed in the contract include: how long the boxed set will run (90 days, six months, a year); whether the book you provide for the boxed set will be exclusive to the boxed set (which is required if the boxed set is in KDP Select) or whether the author can also publish the book elsewhere simultaneously; what the boxed set organizer will do (buy cover, marketing, etc); what type of manuscript you will turn in (usually they want a fully edited manuscript); and a plan for how and when profits will be paid. As an example of some terms, if there is no buy-in, the contract will probably specify that authors will not be paid until after the organizer recovers the expenses associated with producing the boxed set. In terms of other payment terms, usually the contract specifies whether authors will be paid monthly, quarterly, every six months, or at some other interval. It's not unusual for exclusive boxed sets to only be available for three to six months and then unpublished so authors can have use of their work again. Whatever is happening to the books in the sets, and with the money, should be spelled out in the contract.
Is there anything to worry about? In every area of life there can be things to worry about.  While scammers are rare, a huge scam occurred last fall where a woman ran the equivalent of a boxed-set Ponzi scheme. She didn't ask for any money up-front and organized a couple of successful boxed sets for authors, paying out and everything. Then, with her good reputaton there, she organized multiple boxed sets, asked for nothing up front and told authors she would pay them quarterly. Well, the sets made tens of thousands of dollars, much of it paid by Amazon monthly (after two months). The authors waiting for that quarterly payment saw nothing and the organizer disappeared into the wind with all the cash. The authors got Amazon to pull the sets so the scammer couldn't profit from their hard work any longer, but the cash collected by the scammer already was gone. You can watch this Self-Publishing Round Table video where some of the authors impacted discussed the situation. They all note this was incredibly unusual. If you've never been in a boxed set before, be sure to look for a reputable organizer. If the boxed set organizer is an author who has been around for a long time with several successful books and a good reputation, then that's a good sign. The scammer involved in the cited incident didn't have a long track record, and therefore had little to lose. Also, if you know the other authors well and on a personal level, that's a good sign, too. If you don't feel comfortable with the organizer, don't join the set. Feel free to ask around about any organizer of a boxed set.
So, that is the skinny on boxed sets. With this information in mind, go forth and join a set, if you're interested.