Indies Unlimited does not review books, but we do have a couple of renowned reviewers on staff. We thought a great way to celebrate indie writing would be to ask those reviewers for their top indie picks of the month. Here are this month's top picks from our experts:
---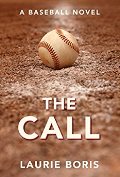 The Call by Laurie Boris

"All in all, a good read, even for those who would typically stay away from women's fiction or sports fiction."
Read the rest of the review by BigAl.
The Call is available through Amazon.com.
Continue reading "Indie Reads – Book Reviews for November 2017"