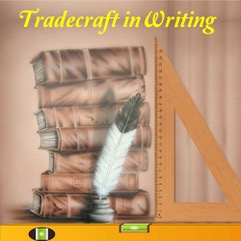 Over the holidays I was talking to my brother, who is a carpenter in Fort McMurray in the Alberta Oil Patch. Because he spends a lot of time living in camp, he is a voracious reader, so when he talks about books, I listen. His comment was that a lot of the authors he reads do not pay enough attention to their tradecraft.
As a carpenter, his objective in every project is that everything is plumb, level, and square. It is easy to slack off and not bother. Boards are usually cut off square in the mill, so if you jam them together tight, they will usually align themselves square to each other. However, if they are even slightly off, your project will not end up completely square. Which is no problem, until some day, later on, you try to match it up to another project. Then, if the other piece of work isn't quite square either, the errors always multiply, and the two will never fit together, and in the end it will all look like crap. And if the first project is, for example, the foundation of a house, the whole rest of the structure is going to be problematic.
That is the key to tradecraft. Make sure your work is plumb, level, and square all the time, not just when it really needs to be. Otherwise, it will screw you up down the line.
Apply This to Your Writing
If you make sure that every line you write leaves your keyboard with all the basics tended to perfectly, you have laid the foundation for a work you can be proud of. Better still, you have laid the foundation for a lifelong habit, and that's going to save you a whole lot of time and agony as your writing progresses.
But I see books by new authors, and they don't bother to spell "all right" as two words, and they haven't figured out the difference between using an em-dash, a colon, or a semicolon, and some of them – heaven help them because I can't – don't even seem to be able to run a spell-checker program.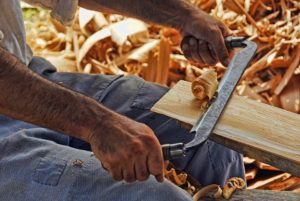 So I write to these authors and ask them if they'd like me to do a sample edit on a couple of chapters of their work (completely free). And they respond politely that no, thank you, their work has been "professionally edited," and they're quite happy with the results.
"Quite happy?" I'm never happy with the results of my edits. I'm always certain that there are a few blatant errors I have somehow missed, and several arguable commas that I should reconsider. But part of being a professional is knowing when to stop, so I eventually push the "publish" button and send my baby into the hands of the Gods of Marketing.
On the other hand, if anyone were to offer to show me the error of my ways, I'd be the first to wonder: "Is this person's tradecraft better than mine? What can I learn from him or her?" and I'd jump at the chance.
What is Tradecraft?
1. Tradecraft is getting the basics right. Spelling, punctuation, word usage.
2. Tradecraft is writing clear, straightforward sentences. Remember that the concept of breaking speech into sentences was created to make meaning clear. Yes, if you follow all the arbitrary rules, you can make horrendously long and convoluted sentences, and an expert could check them over and agree that they were correctly formed. But the intention of writing is communication. Tradecraft means that your sentences make sense. Clearly, easily, and without flourishes. If you're bored with your sentences, don't make them more flowery. Make them varied and appropriate for the emotion of the scene. Short, choppy sentences for action. Longer and more poetic sentences in description. That sort of thing.
3. Tradecraft is getting your facts straight. Research has always been an important arrow in the author's quiver, even for those of us who write Fantasy. A touch of realism allows the reader to connect with the worlds we build.
4. Tradecraft is balance. Depending on your genre, you need to get just the right amount of action, description, emotion, and all the smaller matters that eat up words and, if overused or underused, drive readers into boredom.
5. Tradecraft is only noticeable when you screw up. I doubt if any of you has ever walked into a house and remarked, "Wow, these walls are sure straight!" But heaven help the carpenter if the client notices a crack in the plaster because the wall underneath was crooked.
6. Tradecraft comes first. Too many writers start out thinking they will be artists and create their own individual styles. First the tradecraft, then the bells and whistles. I hesitate to warn you, but once you have your tradecraft polished, you will realize that the bells and whistles are just that: ornamentation, and usually superfluous.
7. Tradecraft gives you credibility. Most people don't notice it, but those who do are the ones that count: reviewers, promoters, librarians. These people all peruse hundreds of books a year, and are looking for a reason to throw yours on the scrap heap and move on to something good. Poor tradecraft is a sure killer. Good tradecraft gets the respect of people who know.
8. Tradecraft has internal gratification. It's not an easy ego builder. You don't get compliments on it. It's an element of your art that gives you a quiet glow of pleasure, the pride of a job well done. It's like wetting yourself wearing dark pants; you get a warm feeling but nobody notices.
So Mind Your Tradecraft.
Make sure every sentence is plumb, level, and square. You'll thank yourself.