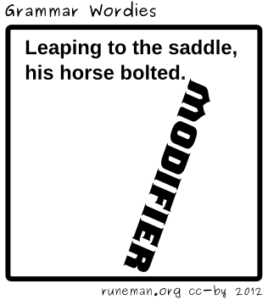 Indies Unlimited has all kinds of editing resources for writers. We even have real-life editors who take a spot at the gruel pot.
Because I am not an editor, while I'm reading a novel that interests me, the occasional typo or misplaced modifier is likely to fly right past me. In spite of that, I'm a writing tutor for Pearson/Smarthinking. It's okay. I can pay attention when I have to.
I tutor over 100 students per month on higher-level orders such as thesis statements, content development, and organization. I also coach them on lower-level issues such as noun-verb agreement, sentence structure, and misplaced modifiers.
Over time, I've come to see the same lower-level mistakes again and again. Some are so sneaky that we can read a passage, know something isn't quite right, but have no idea what it is.
Here are some of the sneakiest errors I see:
1. Misplaced or dangling modifiers. Without getting complicated, a modifier is a word, clause, or phrase that modifies (changes, clarifies, enhances, describes) another word, clause, or phrase in the sentence.
Groucho Marx (as Captain Spaulding in the film Animal Crackers, 1930) is often quoted as having one of the most humorous misplaced modifiers:
"One morni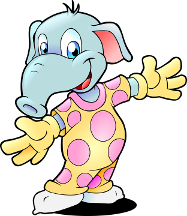 ng I shot an elephant in my pajamas. How he got into my pajamas I'll never know."
Obviously, Mr. Marx meant he was in his pajamas when he shot an elephant, but you wouldn't know that from the sentence.
We laugh at misplaced modifiers in headlines. Years ago, I read in my hometown newspaper that a young boy discovered a skull walking in the woods. I doubt that's exactly the way it happened.
Most misplaced modifiers I come across aren't as hilarious, but can still be confusing. For example, sentences such as, "She awakened to the sun in her four-poster bed." Sounds a little uncomfortable, doesn't it?
Watch those modifiers. They have a tendency to wreak havoc. (But feel free to share funny ones in the comments.)
2. Fewer versus less. For some reason, this is a pet peeve of mine. A few weeks ago I accompanied my son to a doctor's appointment where I heard him say, "I used the bone stimulator less times last week." I bit my tongue, but my son (what a good kid!) turned to me a minute or so later and said, "I know. I should have said 'fewer.' It probably killed you, didn't it?"
It nearly did, and he was right. He should have said "fewer." In general (I'm sure there's an exception to the rule out there somewhere), if you can count it, it's fewer. If you can't count it, use "less." Less time (but fewer times), less water (but fewer ounces), less money (but fewer book sales).
I don't like that last example. I should have listed fewer examples, and taken up less of your time.
3. Well versus good. This one is more complicated, because there are exceptions. To keep it simple, we'll ignore the exceptions.
In general, "good" is an adjective (modifies a noun), and "well" is an adverb (modifies a verb).  So, you would say, "I did well [adverb modifying the verb did] on my exams," or, you could say, "I did a good job on my exams" [adjective, modifying the noun job].
You could also say, "Melinda, do a gooder job of explaining things." But that would be wrong on so many levels.
4. Parallel structure. Language is a beautiful thing. At its best, it has a rhythm. Think of Shakespeare's Julius Caesar:
"Friends, Romans, Countrymen, lend me your ears;
I come to bury Caesar, not to praise him."
Do you feel the rhythm in that? It flows. That's parallel structure.
But how about this: "She tied her shoes, then stood up, and then left the room." It's not incorrect, exactly, but it doesn't flow. "She tied her shoes, stood up, and left the room." That's better (unless you're not a fan of the Oxford comma).
I see a lack of parallel structure all the time, and while I can't ding it for being wrong, I can tell the student their writing would flow more smoothly if they used it.
Another example: "She gazed into his eyes, placed her hands on the back of his neck, and then began pulling him in for a kiss."
If you're going to use past tense, use it all the way through the series.
"She gazed into his eyes, placed her hands on the back of his neck, and pulled him in for a kiss."
And I don't even write romance!
That's it for this time, but I'm sure I'll discuss more in the future. For now, has anyone seen any hilarious misplaced modifiers?