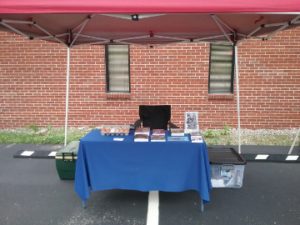 Admittedly, I've sold books at some odd places: a military retirement, a winery (oh, that was a blast!), a flea market, work (to the surprise of friends who never knew I was an author), and the oddest yet: a farmers market.
Yup, you read that right, a farmers market. Because in my "real" job, I'm a farmer. After 20 years in the military, it was time for a change, so we ended up in the Middle of Nowhere, Kentucky on 100 acres. We have the standard farm animals: chickens, ducks, turkeys, horses, goats, a pig, and a pack of dogs. And there are times of the year our 70 laying hens are going gang-busters producing eggs. More eggs than we can handle. So what do you do with all of them? We try to sell as much as possible to local customers who stop by, but that's not many. And there are only so many eggs you can donate to the local summer camp. So a friend invited me to come to her county to the farmers market.
This friend knew I was an author, and encouraged me to bring my books to the market. I'd done this before at a different market in a college town, and had sold some, but this county is not one where folks have a lot of disposable income to spend on luxury items like books. It was hit hard when coal mines were closed and many lost their jobs.
I was wrong, and happily wrong. The first day I set up, I sold four books, and a dozen eggs. That may not sound like much, but it shocked the daylights out of me. Being an outsider to that county, folks are always wary of "new" people. So I put on the smile, talked to folks, and wasn't afraid to let them know I was an outsider. I think they appreciated that.
The next weekend, I still wasn't expecting much. Wrong again! I sold four more books, and seven dozen eggs. There were folks who showed up to buy books who were told by others who had bought books the previous week. Yeah, word gets around fast in a fairly small city (Manchester, KY).
The most enjoyable part of the day was getting to interact with people. I love finding out who they are and what brought them to that city (if they're transplants) or what makes them stay in the city. And having them pick up a book, read the back, and then I get to tell them the story of my motivation to write it. One lady purchased the first book in my military thriller series, and came back the next weekend and bought the second one. I was delighted. It was great hearing how much she liked the characters (especially the character of Jake) and she was hoping to finish the first book in a few days and dive into the second one.
As another weekend approaches, I'm looking forward to loading up the car with books and eggs and heading back to Manchester. I'm fairly confident the heat and humidity will be oppressive, and I'm glad I have my little tent and cool drinks. But if I sell more books (and of course eggs), it makes it all worth it. And the fun of talking to folks and hearing their stories is the icing on the cake.
So if you're looking for another outlet to sell books, don't overlook local farmers markets. Many have Facebook pages where you can contact the organizers and see if they would be happy to have you. Most are thrilled to host local authors and artisans along with those selling produce and baked goods. And you'll get the opportunity to meet new people, maybe make new friends, and hopefully sell some books!