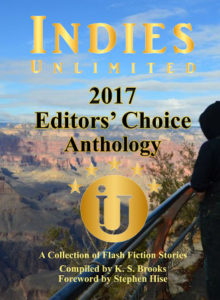 Great news: the Indies Unlimited 2017 Flash Fiction Anthology is now available as an eBook! It will look great on your eReader, but we know you know that already.
The eBook is available in all Amazon stores. And for only $1.99!! But wait, there's more! If you act now, the book is free through July 8th. Yes, we know we're awesome. You're welcome.
Photographs by K. S. Brooks. Prompts by Stephen Hise & K. S. Brooks. Authors with stories in the anthology include: Richard R. Blake, Melissa Bowersock, Regina Clarke, Paula Evans, Judith Garcia, Ara Hamilton, Yvonne Hertzberger, Pharrel Katz, Dale E. Lehman, George Lightgood, D. Doug Mains, Kevin P. Michaels, Mark A. Morris, J. R. Nichols, Annette Rey, Diane Selby, Lynn Sheridan, Lou Silvestri Arlene Stanton, DK Stoneburch, Steven M. Stucko, Marc Twine, Morgan Winters, JB Wocoski, Mickey Wright, and Ann Zimmerman..
Just in case you missed it, the Indies Unlimited 2017 Flash Fiction Anthology is AVAILABLE NOW at Amazon.com. The print editions will be out soon – maybe, if you're nice to us. Don't be the last kid on the block to get one!