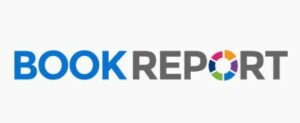 If you're selling eBooks through Amazon's Kindle Direct Publishing (KDP) process, you most likely check your sales through the KDP interface (kdp.amazon.com). The KDP interface defaults to your book(s) dashboard, but if you click on Reports in the top menu, it'll take you to your sales dashboard where you can view your units sold, Kindle Edition Normalized Pages Read for KU (Kindle Unlimited) and KOLL (Kindle Lending Library), and your accrued royalties for the month. You can also customize the view by changing the dates, sorting on specific books or on specific marketplaces.
This is all well and good, but I find the interface to be rather lackluster.
Enter Book Report. Book Report is a free app (app.getbookreport.com) that adds a hot button to your browser. When you first activate it, you may need to sign in to your KDP account in order for Book Report to sync to it, but usually once you've done that, Book Report operates independently and you don't need to keep your KDP interface open to use it. I love Book Report. It's easy to use, has lots of fun bells and whistles, and is visually appealing. I open mine first thing every morning and keep it open all day long. It updates constantly, so the numbers you see are always accurate. Matter of fact, the tab at the top of the page keeps a running total of today's sales so you can see that even if you're working on a different tab in your browser.
The default page comes up with several quick visual aids to give you an immediate grasp of how your books are doing. The first one is Top Earners. This shows you at a glance what your top six books are, in order of sales.

Next is Earnings by Day. This is a line graph that shows you your earnings through pages read in KDP Select (blue) and your royalties for sales (red). If you've had a recent promo, it's easy to see the spike that should ensue (as well as the cliff that inevitably follows).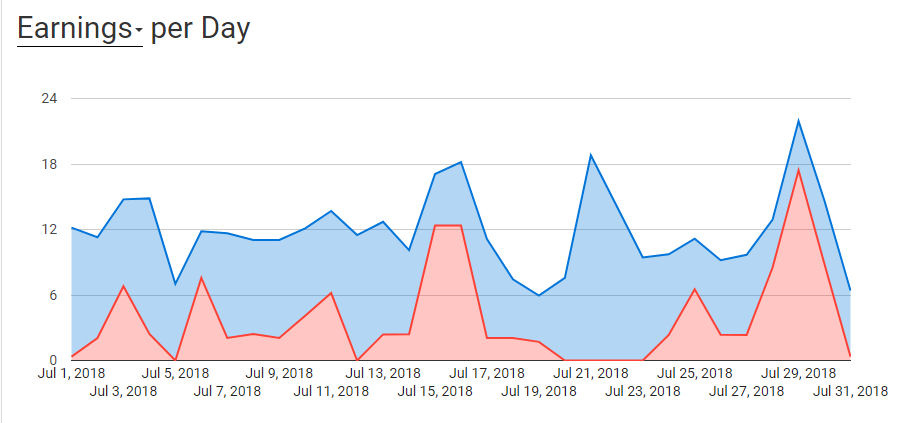 The next graph is Earnings by Book, a pie chart that shows all your books in descending sales order (The top seller is at the 12-1 o'clock position). If you move your mouse over a pie piece, you'll see the title of the book, the total earned, and the percentage of the whole.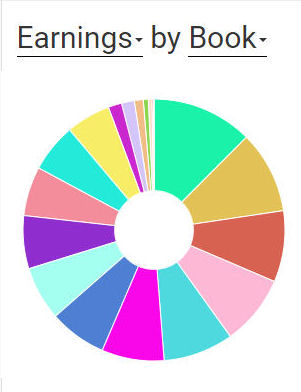 The last quick reference is Earnings by Marketplace. This shows you how your book sales break out over the various Amazon markets. In the example below, Amazon.com, of course, is the US; Amazon.co.uk is the United Kingdom; Amazon.ca is Canada; and Amazon.de is Germany, and of course there are many other marketplaces not shown on my example.

Details follow in a list showing each book and its earnings, pages read, royalties, etc. This list, plus all the charts and graphs above, can be customized by date, book, and marketplace.
The fun stuff enters in beyond all the typical sales information on the home page. Near the top of the page is a menu with six tabs: Today, Historical, Ranks, Reviews, Books, and Settings. Today, obviously, shows you the above results for today only. Historical gives you the option of customizing the above graphs by whatever timeline you choose: this month, last month, last 90 days, the year, lifetime, or custom. Rank shows your top three books in the Paid Kindle Store, plus how that rank may have changed up or down today. Below that is a graph to show your highest-ranking books over time, and below that is a Launch Comparison graph, contrasting the stats for several books of your choice from their launch date. This could be especially useful if you're trying out different promotional strategies for different books.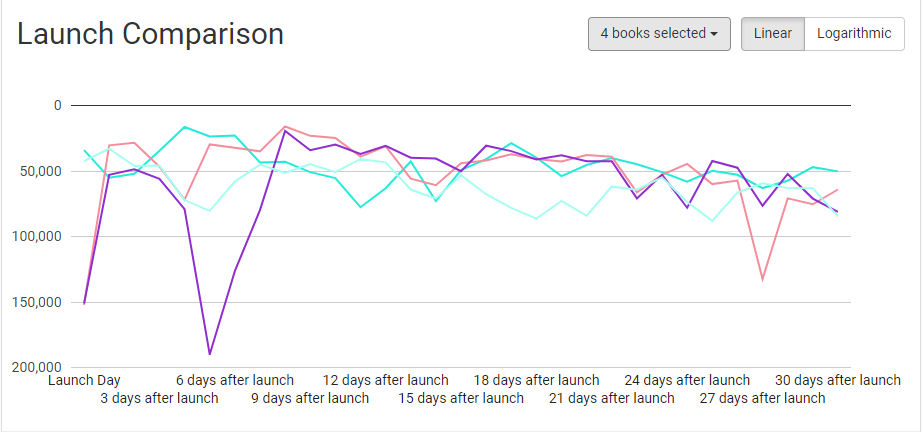 Next is the Reviews tab, which I like to check fairly often because it shows your latest positive review, which book it's for, and how many days ago it was posted. Below that is a chart for Reviewer Retention, which shows how many reviewers reviewed other books of yours before or after a given book (which you choose). That's followed by a list of all your books, how many reviews each has received and the average rating for each.

The Books tab simply shows you all your books with ASINS, and the Settings tab allows you to customize all this data in a zillion ways.
As you can see, there's a lot going on, and it's all easily accessible and fun to play with. I find the information on Book Report to be infinitely more useful and interesting than the dry data on the KDP page. If you haven't tried Book Report, you might want to check it out. It's free, it's fun, and it's a great way to keep on top of your stats.