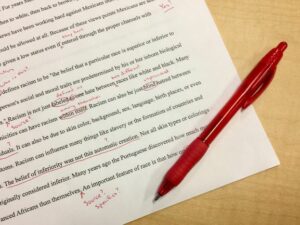 A while back, Laurie Boris gave us a very helpful and comprehensive overview of what you should consider when choosing and working with an editor. While I see no need to amend her concise guide, we here at IU did think it was time to take this a bit further. What can you do to make the overall experience of working with an editor better? What can you do to make sure you are getting your money's worth — but not paying for things you don't need — and creating a productive and enjoyable relationship with your editor? Here are a few things to consider.
First off, why should you care if you have a relationship with your editor or not? You hire them, they do a job, and when it's done, it's done, right? Well, yes and no. Yes, you hire them. Yes, they do a job for you. But editing a book, in most cases, is not like unclogging a toilet. Editing, as writing, is a very subjective business, and while we all have guidelines that keep us from wandering off into the weeds, those lines sometimes can get blurry.
I consider editing to be a partner task to writing. It's not just about fixing the typos and catching mismatches of tense or plugging plot holes; it's about sharing a vision and finding the best way to achieve that vision. When I respond to a query about editing, the first thing I do is ask the writer for the first 10 pages of their work. I go through it as I would any editing task, with a sharp and critical eye, but I also try to imagine where the writer is going with it, what the end purpose will be. With that in mind, I note any place that needs reworking in order to achieve that end, or any place that (I feel) does a particularly good job of leading the reader where I believe the writer wants them to go. Then I send this all back to the writer and let them decide if we are on the same page or not (pun intended). Sometimes we're not, and we part company at that point. Sometimes we are, and we go from there. But my point is, I'm not just being hired to put in commas. I'm working to get the book to the highest level of the author's vision that I can. Not my vision — the author's. To do that, we have to be able to work together, and we have to be able to communicate clearly. An ill-fitting relationship won't facilitate that.
Now, before the real work begins, here are some ways you can make the process flow much easier and faster.
Get your manuscript as clean as possible. Attend to the details. It might be easy and tempting to think, "Well, the editor will check for commas or catch missing quotes," but is that really the best use of their time and your money? Some editors charge by page or by word count; others may charge by the hour. Do you really want to pay for someone to put in commas when you could do that? Sending out a rough draft of your manuscript when it still needs polishing is counter-productive. Do all those things we talk about here at IU to make sure your manuscript is the best it can be (read it aloud, send it to beta readers, etc.) before you send it to an editor.
Likewise, don't send your manuscript to an editor if you know you still have revisions to make. Again, this is a waste of time — yours and the editor's. On occasion, I have been editing a book and get to a place where the author has a big red note saying, "More here," or something to that effect. What that "more" is could have appreciable impact on everything that follows, yet if it's not there for me to consider, how do I do my job effectively from that point on? Economically speaking, if I go ahead and edit what I believe the author is saying, but then find out due to revisions that my assumption was wrong, there's a whole second round of edits that probably needs to be done, adding time and effort for me (the editor) and time and money for you (the writer). If you know there's more work to be done before the book is complete, finish it first before you send it off.
Finally, if you are making changes based on your editor's comments or suggestions, make sure you're correcting the latest version of the manuscript. I was once editing a pretty hefty novel for a woman, correcting spelling errors or obvious missing punctuation as I went. I would send the entire thing back to her for her consideration, yet when she returned it to me with some newly revised sections, I quickly noticed that all the spelling and punctuation errors were back again. She was fixing and resending her own version of the book, not the one I'd just gone through, so I was faced with those same copious errors that I'd already corrected once. You can imagine my frustration when I sent her a re-corrected copy, only to be given yet another revision of the old version with all the errors back in place yet again. Needless to say, this was neither a good use of my time nor her money. Just because I'm being paid doesn't mean I'm happy doing duplicate work.
Many writers are unsure about things like commas and quotes and conflict. The best way to learn about these? Read. Read books that are similar to yours, in the same genre, and note how the authors pace their sentences, how they use dialog to further the story, how they ratchet up the tension. One writer sent me a romance novel to edit, and when I queried her on some obvious problems like lack of emotion and lack of conflict, I asked if she'd read many romances. She confessed she'd not read a single one. The best teacher you can possibly have is another author in your genre who is doing it right. Read, read, and read some more. Then write. And when you send your work to an editor, make sure it's your very best.