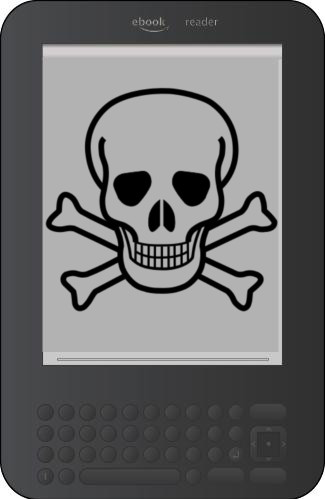 A friend recently notified me that there was a site offering eBooks for free download, and several of my books were among those offered. The site is called graycity.net, and it's got quite an extensive library of "free" books— extensive enough to have ten of mine and several of many other indie authors I know.
This, however, is not a new occurrence. Unfortunately, I get notices of this sort of piracy fairly often. The thing is, there are actually two diverse scenarios here. The first is that, yes, a site may have pirated books available for free download. Yes, it's illegal, but yes, it goes on. What can you do about it? I'll get to that in a minute.
The second scenario is that very often, clicking on these "free" offers ends up sending you to (1) a spam site, (2) a site with viruses, or, oddly, (3) a place where the books actually do cost money to download. Because of this, I and many of the authors here at IU don't get our undies in a twist over the piracy. It's not that it's okay; it's that it's actually not as widespread as you might think. Any time you see a site offering free anything, even your own books, step back, take a breath and think about it. You know the old adage about "if it sounds like it's too good to be true…"? That certainly applies here. Nine times out of ten, I won't even click on my "free book" to check it out simply because I don't want to open myself up to spam or viruses or being hacked. This is definitely a time when the consumer should beware.
So what's the deal with Graycity? Near as I can tell, it's a spam site; while you can read the book(s) online on your screen, you're also bombarded with spam, some of it sex-related. Trying to read a book amid all the pictures and pop-up links would drive me crazy. I didn't hang around long enough or dig deep enough to find out if there was any hacking or viruses coming through, but it's always possible. I definitely would not spend a great amount of time there.
So back to scenario #1: someone really is offering your copyrighted book for free downloads. What can you do? You can send out a DMCA (Digital Millennium Copyright Act) notice to inform the site that they are infringing on a copyright, and request that they take down the infringed-upon material immediately. How do you do that? Here's a sample notice below:
Attn: (website)
Pursuant to 17 USC 512(c)(3)(A), this communication serves as a statement that:
I am the exclusive rights holder for [title of copyrighted material being infringed upon, and, if possible, additional identifying information such as ISBNs, publication dates, etc — or, if the material is a web page, the URL];
These exclusive rights are being violated by material available upon your site at the following URL(s): [URLs of infringing material];
I have a good faith belief that the use of this material in such a fashion is not authorized by the copyright holder, the copyright holder's agent, or the law;
Under penalty of perjury in a United States court of law, I state that the information contained in this notification is accurate, and that I am authorized to act as the exclusive rights holder for the material in question;
I may be contacted by the following methods (include all): [physical address, telephone number, and email address];
I hereby request that you remove or disable access to this material as it appears on your service in as expedient a fashion as possible. Thank you.
Regards,
[your full legal name]
Most websites will list an email address or contact information somewhere on the site. If not, you may have to try a WHOIS search or a DNS lookup. Obviously, if the site is fraudulent in some way, it may make it more difficult for you to figure out who they really are and how to reach them.
Okay, so you've sent your take-down notice; what now? Wait several days. It may take days or even weeks before they comply. And what happens if they don't? Then you've got the industrial-strength option: talk to a lawyer. You can also try to get their site removed from Google search results.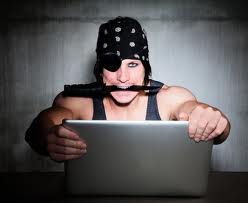 I should point out here that there is a raging controversy online about how much piracy does or does not affect an author's (or any artist's) bottom line. Some studies conclude that people who download pirated books would never pay full price for a book anyway, even if they couldn't get it for free, so there's no real loss of revenue. Others pooh-pooh that idea and say authors do lose revenue to piracy. I don't know if there's really any way to tell conclusively. The only way to know would be to set up two identical books and have one available on pirate websites but the other not, and see what the royalty difference was, but how could you ever control a comparison study in the wild west of the internet? I think at this point, you'll just have to weigh the data and decide for yourself.
So how do you even know if anyone's offering your book(s) for free? There are several ways to do that, some free, some not. One of the first lines of defense could be using Google Alerts. You sign in to or create your Google account, then set up the alerts for your name, your book's name, however you want to design it, and it's free. I've used Google Alerts for years. I also use Mention. They have both a free and a paid version, and I've used the free version for years. Very often I'll get the same alert from both, but I also get different alerts from each. Other web monitoring programs I have not used are Talkwalker Alerts and Social Mention, and there are probably others as well. It's easy enough to start off with a free program and see how it works for you.
Bottom line: Piracy exists. If you're an author, you could well be affected. If so, you have options. You can: ignore it; sign up for alerts and at least monitor it; send take-down notices; report them to Google; get a lawyer. It's up to you.