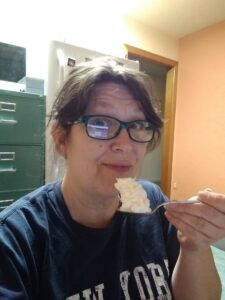 I hope each and every one of you is home safe, and that you and your families are healthy.
This is a troubling time, with the future uncertain. Many have lost their jobs, and most of those who haven't are now working from home. Many of them have their children home as well. None of these scenarios are exactly the greatest ambiance for writing.
Yet writing (and eating lots of chocolate or whipped cream) is a great coping mechanism. Even simply jotting down what you saw and felt in an attempt to document the Coronavirus Pandemic of 2020 can provide some relief, and it won't make you fat.
As the notes come out, it's not a far reach to imagine using them in a post-apocalyptic novel or a science fiction book. Of course, you could just use them in an actual memoir. Or, you could not use them at all, or file them in a drawer. Then, there are some of us who use humor to cope – and will end up writing a spoof or comedy. Maybe you just want to have something documented to share with your grandchildren. None of these ways is wrong. Whatever helps you cope is the right thing to do.
Those of you who have been working on projects may feel a little lost and unable to focus. That's okay. Don't beat yourself up. These are times the likes of which we've never seen before. Feeling a little funky is to be expected. I've had a huge list of things to get done forever and now I'm at a loss for what those are. If looking at memes on Facebook was on the list, I'd be an overachiever. In any case, give yourself time to deal with things.
I think a lot of people feel helpless right now, but the reality of it is – staying home is doing something. It's pulling dominoes out of the line and hopefully preventing something even more catastrophic.
An activity that might help could be playing a writing game with your kids. Ask them to write down how they feel about being home right now. Maybe you want to ask them to write what they would be doing if they could do anything. They could also write about what worries them. This will give you insight into what they're going through and be an easy way to open up discussion and help them overcome their fears. Just don't forget to write your own assignment at the same time. If they're too young to write, have them draw.
Many authors are making their books free so people (and kids!) can have something to read to pass the time. Reading is such a great escape. Smashwords is having a big sale right now and many of those books are free.
If it moves you, take advantage of those free books. Take advantage of the new time you may have. Read, write – do what helps you find your balance. If it's neither, that's fine, too. Find something that works for you, and don't feel guilty about it!
Keep safe and healthy. Whatever the "new normal" ends up being, we'll get there together.
All the best from me and the IU staff,
Kat