[This is part 2 of a two part "Getting it Right" series by author and martial arts instructor Mark Jacobs. This series is aimed at helping authors understand and add meaningful and convincing detail in writing fight scenes. Part 1 can be found here.]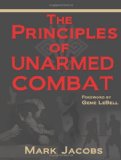 Another fallacy is that a trained martial artist can kill an opponent with a single blow to the heart. Though I've previously written about my enjoyment of the martial arts action/adventure novels by author Eric Van Lustbader, and have even praised some of his written fight scenes, when he starts describing the deadly "heart kite" strike, he strays into the realm of fantasy. Yes, in rare instances, people do die from blows to the chest that interrupt the heart rhythm – it's occasionally happened in little league baseball games when fielders are hit with a line drive – but this is essentially a million to one shot that could never be done intentionally by a fighter.
Even more ludicrous is the concept of a "delayed death touch," a strike that can be timed to kill a person at a later date. Again, a person might receive an injury during the course of a fight that later causes him to fall over dead but this is sheer bad luck and not something anyone can intentionally do to another person.
Besides technique fallacies, the second major category of mistakes seen in this area are the simple informational/factual errors that authors commonly make when writing about the martial arts. Years ago, it was common to refer to "the judo chop." But anyone who bothers to do a little bit of research will quickly discover judo is a wrestling style and has no "chop." That is a karate technique, where it is more commonly known as a "knifehand" or, in Japanese, as a "shuto." Continue reading "Getting It Right: Throwing a Right Part 2"