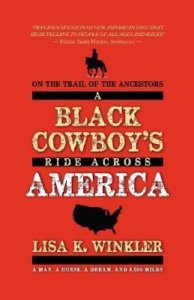 Today we have a sneak peek from Lisa Winkler's African American historical biography, On the Trail of the Ancestors: A Black Cowboy's Ride Across America.
Miles J. Dean, a Newark, NJ schoolteacher, rode his stallion Sankofa from New York to California to celebrate the contributions African Americans made in the settling of the United States.
Growing up in Brooklyn, New York, Dean first learned about cowboys from watching television. Although Hollywood helped keep his dream alive, the cowboys on TV didn't look like Dean. His journey through 12 states retraced the steps of African Americans unknown by most people: the black jockeys, the Buffalo soldiers, the black cowboys and deputy Marshals. His unpaid leave of absence showed how an ordinary man can accomplish the extraordinary.
On the Trail of the Ancestors: A Black Cowboy's Ride Across America is available through Amazon.com and Barnes & Noble.com. Continue reading "Sneak Peek: "On the Trail of the Ancestors: A Black Cowboy's Ride Across America""