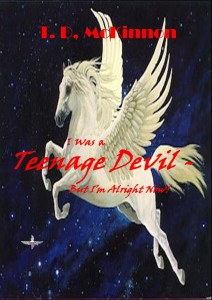 Today we have a sneak peek from author T.D. McKinnon's book, I Was a Teenage Devil – But I'm Alright Now!
This is the continuing saga of Thomas who, after 'Surviving the Battleground of Childhood', attempting to escape his coal mining community roots, joins the British Army at just fifteen years of age. He continues to grow up through the second half of his teens, steeped in the elitism of the infamous 'Red Devils'.
Searching for emotional validity, his trysts and affairs of the heart vary from fleeting, to sordid, to totally absorbing. On one occasion, when an old devil comes a calling (a sexual predator, disguised as a senior, RAF officer), Thomas decides to commit the ultimate sin!
I Was a Teenage Devil – But I'm Alright Now! is available at Amazon.com, Amazon UK, Smashwords and other major online retailers.
Here is an excerpt from I Was a Teenage Devil – But I'm Alright Now!… Continue reading "Sneak Peek: I Was a Teenage Devil"