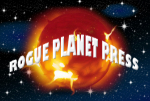 Rogue Planet Press is currently accepting submissions for its anthology entitled Fall of the Galactic Empire. Stories should be a maximum of 6000 words, and should be space opera, hard science fiction, or poetry featuring gallant space rebels battling oppressive galactic empires.
Deadline: Until full.
Entry Fee: Free
Prizes: Exposure and Royalties.
For more information, please visit their website.
---
Indies Unlimited is pleased to provide this contest information for the convenience of our readers. We do not, however, endorse this or any contest/competition. Entrants should always research a competition prior to entering.