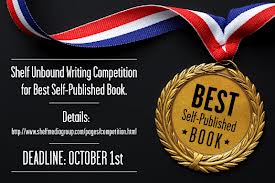 Shelf Unbound book review magazine is looking for submission to their Shelf Unbound Writing Competition for Best Independently Published Book. All genres eligible, as long as they are independently published.
Prizes: Top five books receive editorial coverage in Shelf Unbound. Best book receives a year's worth of full-page ads in the magazine.
Entry Fee: $40 per book
Deadline: October 1, 2014
For more information, visit their website.
*      *      *      *      *
Indies Unlimited is pleased to provide this conference information for the convenience of our readers. We do not, however, endorse this or any contest/competition/conference. Participants should always research a conference prior to attending.