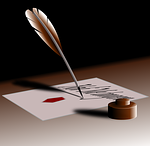 For most people, the angst of thinking up a pithy signature line was over with the last period bell.
For them, there is no more worrying about all the ways a book owner could be dissatisfied: It wasn't personal enough. It wasn't long enough. It wasn't funny enough. It wasn't smart enough. I still remember the poor freshman schmuck who signed, "have a neat sumer". Yes, s-u-m-e-r to be ridiculed for all eternity.
You, however, may be fortunate enough to relive that autograph frenzy with your own print book. What? You say you used to hide in the bathroom until it was over? Well, if you're really lucky as an author, you'll be put under a spotlight in the middle of the cafeteria–I mean, store–so that everyone can gawk at what a loser you are because no one wants your book, let alone your signature.
There will, however, be at least one person who feels enough pity to approach your table. It might be your mother but you should still be prepared and make it count. So here are some tips: Continue reading "Will you sign my yearbook?"