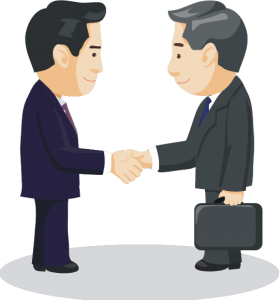 Here is something I don't think many people saw coming. The internet is abuzz with rumors that Amazon is in negotiations to buy big ink publisher Simon and Schuster. The internet is always abuzz with something, and I don't know whether this is real or not. It may be a stratagem aimed at scaring Hachette off the fence in its negotiations with Amazon. But Passive Guy is also reporting it, so maybe there is something there after all.
Kozlowski (link above) reports:
The publishing industry could be turned onto its head with a recent revelation that Amazon is in talks to purchase big 5 publisher Simon and Schuster. If the deal were to get done, this would give Amazon major distribution to physical bookstores under their own imprint and change the publishing world forever.
Notwithstanding that everything that happens seems to threaten to change the publishing world forever, this does conjure up some pretty dramatic images.
As always, Amazon is not talking. My favorite part of any article about Amazon is always at the end of the article: A spokesperson for Amazon refused to comment. Seriously? I think maybe Amazon is using the title "spokesperson" incorrectly. It would make more sense if they changed the person's title to stonewaller. A stonewaller for Amazon refused to comment. There. That makes sense.
Anyway, if Amazon really did buy its own big fat pet publisher, that could represent some major upheaval. Will the Bezoids still love indies if they have their own big brand to push? What about Apple? Will Apple respond in kind, scooping up Hachette? Will Random Penguin scramble to buy Barnes & Noble to squeeze its competitors out of the brick and mortar markets? Will Yahoo respond by buying up DC Comics?
Fun times. What are your predictions?