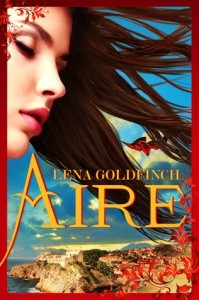 AIRE
by Lena Goldfinch
Genre:Young Adult Fantasy Romance
Word count: 93, 000
Principessa Annalisia is stunned and conscience-stricken when an unknown enemy mistakenly abducts her maidservant. Determined to find the girl, Annalisia disguises herself as plain Anna and slips away from the palace.
She tracks down Jovanni, her maidservant's daring older brother, and they soon begin to search together. As they uncover clues, Anna also discovers a kindred spirit in Jovanni. But would he be so free with her if he knew who she really was? Doubtful. Even so, she reveals her secret gift of visions to him, and in so doing disobeys the orders of her beloved grandmother, the queen.
With Jovanni, Anna can almost imagine she's like any other seventeen year old girl, free to pursue the longings of her heart. When she learns that he also has a secret—he's a sentinel, an ancient shapeshifter who can take the form of a falcon—it seems as if they were destined to be together, as in the legends of il Sentiro. Though Anna is tempted to wish otherwise, she can't forget that she's a princess and it's her duty to marry another. Meanwhile, their hunt leads Anna ever closer to danger, for she herself is being hunted.
A princess and a commoner. They never should have fallen in love…but they did.
This book is available from Amazon and Barnes & Noble. Continue reading "AIRE, by Lena Goldfinch"