Author Maggie Lyons is pleased to announce the release of her new middle-grade action/adventure book, Vin and the Dorky Duet.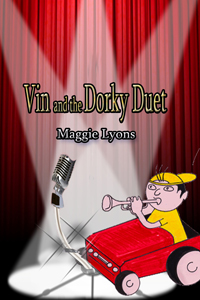 The moment he walks through the door and sees the sharky grin on his older sister's face, Vin suspects Meg's hatching a plot. He's right. Worse still, he's central to the outcome. Meg tells him that their music teachers, parents—everyone—expect him to play her duet for trumpet and piano at the upcoming student concert. Vin is horrified.
Meg insists that his only escape route is to persuade another trumpet player to take his place. She has the hunky Brad Stewart in mind, and she challenges Vin to introduce her to him. Vin doesn't know Brad any better than Meg does, but Meg points out that Vin takes a couple of classes at school with Brad's nerdy brother. Eyeballs Stewart is the last person Vin wants to befriend until Meg's promise of a David Beckham autographed soccer jersey changes the seventh-grader's mind. He has five days to accomplish his mission—Operation BS—before the concert practice schedule kicks in.
His game plan, thwarted by exploding fish tanks, magnetic compost heaps, man-eating bubble baths, and other disasters, ultimately succeeds, but not exactly as Vin expects…
Vin and the Dorky Duet was published by MuseItUp Publishing on June 15, 2012. It is available as an e-book from Amazon, and will be available through other retail channels soon.