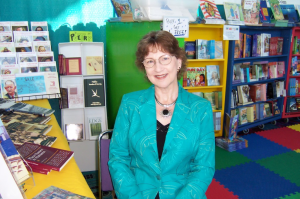 Jerrye Sumrall lives on the Eastern Shore of Mobile Bay with her husband. Formerly an elementary school teacher and counselor, she is now a full-time writer, homemaker and office manager for she and her husband's business. She has two books in her middle-grade mystery series, The Bayshore Mysteries. Both books, Intruders On Battleship Island and The Secret Graveyard, are available at Createspace and Amazon.com. She plans to add a third book, The Mystery of Wragg Swamp, very soon.
Jerrye says she never thought about writing mysteries as a child but knew she had a driving spirit of adventure and a fascination with the unknown. Whether it was watching horror flicks on television, reading Nancy Drew books or exploring her surroundings, the quest to solve a mystery was always there.
The Eastern Shore region of Mobile Bay, an area rich in Civil War history and small town culture, serves as a springboard for Jerrye's first book, Intruders on Battleship Island. The Beatrice and Monroeville, AL, setting, found in The Secret Graveyard, brings to life new mysteries and secrets from the past. Jerrye has also drawn from her years of teaching and working with kids to develop a series that incorporates historical fact, age appropriate mystery, and lessons in friendship and courage. Learn more about Jerrye at her Amazon author page and her website. You can also find her on Facebook.
---
Something strange is happening in Beatrice!
First a mysterious boy appears. Then unusual carved figurines are found. Later, slave journals are discovered and then a secret map. Where does the map lead? Will Jeff and Melissa solve the mystery about the strange boy? Could it be connected to the secret map?
Jeff and new friend, Melissa, discover a mystery when he goes to visit his great grandfather in Beatrice, Alabama. Beatrice, a small southern town whose past holds many secrets is just part of the puzzle. Other secrets are revealed when they explore his great grandfather's attic, pursue the strange African-American boy, visit an old courthouse, get lost in the woods, and trapped in a train tunnel.
Their quest to find the truth unveils fascinating and intriguing secrets from the past and creates new friendships in the present. Jeff's determination to discover the truth about the boy and the secret graveyard leads him on his own journey of self-awareness and self-worth.
*Be sure to watch for the third book in the series, The Mystery of Wragg Swamp
The Secret Graveyard reached #1 on Amazon's Children's Mystery and Spy Books, Top 100 Free
#12 on Amazon's Top Rated Mystery and Spy Books, based on reviews http://amzn.to/Npctnm