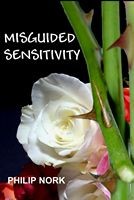 Author Philip Nork is pleased to announce the release of his new creative non-fiction memoir, Misguided Sensitivity.
The journey we are on is a difficult one, even more so for those from a broken family. Follow one boy as he searches for the two desires we all have in common: to be accepted by others, and to be truly happy. Life continues through the good and the bad, and each and every person you meet along the way leaves pieces behind, like a jigsaw puzzle, for you to piece together as you grow and learn. And as you put those pieces together, you hopefully become a better person for it. We are indeed all connected, and everything you do really does matter and will always affect someone else in one way or another.
Misguided Sensitivity was released on May 9, 2012 published by All Things That Matter Press. It is available through most on-line book retailers, including Amazon.com.