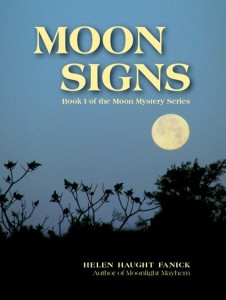 Moon Signs
by Helen Haught Fanick
Genre of this Book: Cozy Mystery
Word count: 60,000
Retirement is a time for knitting, gardening, and an occasional quiet lunch with friends, according to Kathleen Williamson. Her sister Andrea has an altogether different point of view. When the sisters go to the Canaan Valley to search for paintings mentioned in a document found in an old hotel once owned by their grandparents—paintings that might be Monets—Andrea immediately becomes involved in tracking down a murderer. Kathleen would much rather be looking for the paintings, but she goes along with Andrea, since the victim was their hotel-keeper, murdered just down the hall from their room. The question is: Does the murder have something to do with the elusive paintings?
There are many clues and many suspects, including hotel staff, valley residents, and the mysterious foreigners who come from the Eastern Seaboard for skiing. There are also many types of danger—icy roads, sub-zero temperatures, and a killer who doesn't care how many people die in the attempt to make sure the right ones do.
This book is available from Amazon and Amazon UK. Continue reading "Book Brief: Moon Signs"