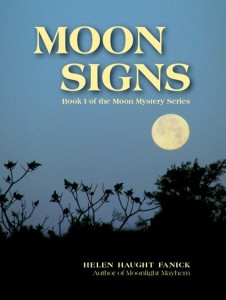 Today we have a sneak peek from Moon Signs, the cozy mystery by author Helen Haught Fanick.
Sisters Andrea and Kathleen are happily searching an old hotel in the Canaan Valley for paintings once owned by their grandparents—paintings they hope are Monets. Then their hotelkeeper is murdered, and Kathleen immediately starts tracking down the murderer. There are many clues and many suspects, including hotel staff, valley residents, and the mysterious foreigners who come from the Eastern Seaboard for skiing. There are also many types of danger—icy roads, sub-zero temperatures, and a killer who doesn't care how many people die as long as the right ones do.
This book is available from Amazon and Amazon UK.
Here is an excerpt from Moon Signs…
"There's no pulse, and she isn't breathing," Andrea said.
I sat on one of the chairs beside the fireplace and put my head between my legs. I could hear noises and imagined that Andrea was dragging Olga out from under the desk and starting CPR.
"See if you can find someone—she isn't breathing, and we need professional help here," she said between breaths. Andrea has no patience with fainting.
I moaned and raised my head, and then I stood up tentatively, steadying myself with one hand on the back of the chair. I started down the hall and pounded on the first door I saw. The man who had been lurking behind the ficus tree earlier opened the door and peeked out.
"There's a problem with Olga," I said. "She's stopped breathing. My sister is giving CPR, but we need help."
He pushed past me and started toward the desk. "Get Stefan. Upstairs, first door on the right."
I was breathless by the time I reached the top of the stairs. I banged on the door marked 16. A young man pulled the door open.
"It's Olga," I gasped. "We found her at the desk. She isn't breathing."
Stefan raced down the stairs two at a time and disappeared around the corner toward the desk. A padded bench stood against the wall, and I slumped down there and tried to control my breathing. I was shaking all over. I knew I should go back downstairs, but what help I could be there, I couldn't imagine.
Finally, I caught my breath and felt that my heart rate was slowing. I stood up and walked with wobbly knees to the stairway. I made my way down slowly, clutching the handrail. When I got to the desk, Stefan had taken over the CPR and Andrea was on the phone, telling someone where we were and what had happened. The man who sent me to Stefan's room was nowhere in sight.
---