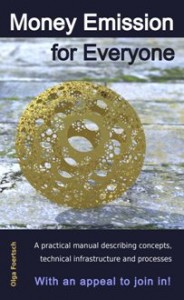 Money Emission for Everyone
by Olga Foertsch
Available from Amazon US, Amazon UK, and Amazon DE.
What does money emission really mean?
Money emission covers the creation of money and its initial distribution into the cycles of economic processes. As such, it is much more vital than we assume in ensuring the continued survival of human civilisation. The fact that banks currently have exclusive rights to emit money is a reality, but it need not necessarily be so.
In her new book, Olga Foertsch examines money in its capacity as an aid for the economy. She demonstrates how and why the free entrepreneurial sector was gradually denied access to such an important business sector as money creation.
Nonetheless, an analysis of prevailing problems or grievances is not the goal of this book. Instead, the author describes a concept for a new monetary system: an idea which she considers perfectly feasible.
Written at the intersection of information technology, economics and sociology, this book guides us through a topic most of us do not think about every day. "Money Emission for Everyone" introduces the most important aspects of the concept, from the underlying logic of the necessary technical communications processes through to the daily business of an emission manager.