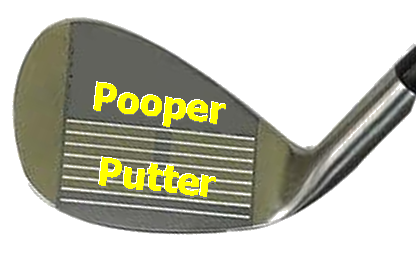 [Indies Unlimited is brought to you in part by the fine folks at SplatCo Pet Solutions]
Winter can be a real bummer for the golf enthusiast, but Rover never takes a day off.
Thanks to the folks at SplatCo, now you can keep your swing in good form and have some fun maintaining a clean yard. The SplatCo Pooper Putter is a neat new way to work on your chip shots and rid your lawn of pet waste.
Available in 9 iron, pitching wedge and sand wedge, the SplatCo Pooper Putter is fitted with a snap-on plastic splatter shield in case the weather isn't quite as cold as you thought.
Remember, if you're worried about what your neighbors might think, they've probably already ordered one. Shouldn't you?