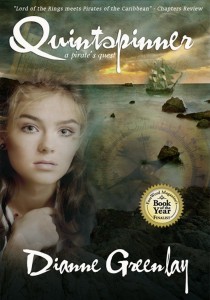 Today we have a sneak peek from Quintspinner: A Pirate's Quest, the award-winning historical fiction book by Dianne Greenlay.
In the year 1717, Tess Willoughby's privileged life is shattered when she is forced to accept a mysterious Spinner ring from a dying stranger. Worse yet, she finds herself forced onto a merchant ship bound for the pirate-infested West Indies and betrothed to the stranger's murderer – a man who desperately covets the ring's supposed power. When her fiancé double-crosses her during a pirate attack, Tess must learn to use the strange Spinner ring, but will she also learn to play the game of double-cross in time enough to save herself? For if she fails at either, the stakes are unbearably high.
Quintspinner: A Pirate's Quest is available through Amazon.com, Barnes & Noble, and Amazon UK.
Here is an excerpt from Quintspinner: A Pirate's Quest… Continue reading "Sneak Peek: Quintspinner"