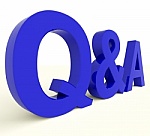 The talented and underfed staff at Indies Unlimited cuts a wide swath through subjects of interest to our readers, but that doesn't mean we have covered every topic imaginable or of interest to you.
Sure, we could continue to use our amazing mental powers to divine your areas of interest; or we could just ask you what you'd like to see addressed. That's the whole point of our reader request feature, You Asked For It.
What's on your mind? What issues, areas, controversies, tutorials, surveys would you like to see IU undertake? Our staff will divvy up the requests and hand-craft posts to tackle the questions asked.