Safe upon the solid rock the ugly houses stand: Come and see my shining palace built upon the sand!
Second Fig, Edna St. Vincent Millay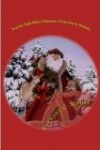 There are childhood memories that are so precious to us that we keep them deep inside. They sit in our mind wrapped like a Christmas present under the tree and we get to open them again, and again, and again. We gaze at these gifts with anticipation, knowing the treasure within. We may think that these memories are unique to us. As we grow older we realize that many other people were fortunate, like us, to have had the same childhood experiences. They hold the same precious memories deep in their heart.
As I carefully remove the wrapping paper from one high, square box and lift the lid, I see four children listening with rapt attention to the beautiful woman reading, "Twas the Night Before Christmas." Their faces are eager as they follow the rhythm of the poem. There won't be a lot of presents under the tree the next morning. But this memory, the joy of being read to, is the eternal gift that will remain long after the toys are broken and discarded. Continue reading "The Joy of Reading Aloud"