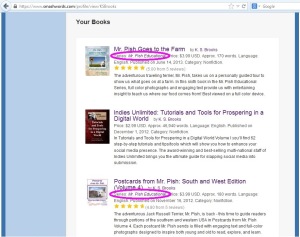 Just this past weekend, Smashwords notified its authors of a handy new tool: Smashwords Series Manager. They claim it will "improve series discovery" and they could be right. They explain about the new tool at this link.
At first I was skeptical. Then, I thought about it. There have been many times I wanted to send people to JUST my Mr. Pish educational books on Amazon.com. But I can't. I can always do a search under "Mr. Pish," but that doesn't bring up only his books. So, if this gave me the capability to do that, it would, in fact, be good. Turns out, it's very good, and I have to say, this is another advantage Smashwords has over Amazon (the other being free and discount coupons for books).
Here's a step-by-step tutorial to show you how easy it is to link your series books together with the Smashwords Series Manager.