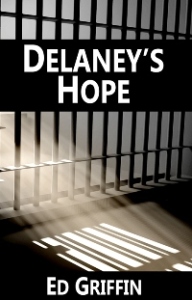 Delaney's Hope
by Ed Griffin
Genre of this Book: social science fiction
Word count: 99,000
He never thought they'd agree. A prison without walls. Inmates managing themselves. One last chance to turn their lives around.
When warden Tom Delaney proposes a new style prison he never imagined the head of the prison board would give him funding. When he gets the green light there is only one condition-the inmates he's assigned will be the toughest, most dangerous criminals in the state.
Men and women desperate to break free from their bonds.
A sadistic prison governor with his own agenda.
And Tom Delaney, the warden who wouldn't give up.
Delaney's Hope is the story of the prison that should never have worked.
This book is available at Amazon. Continue reading "Book Brief: Delaney's Hope"