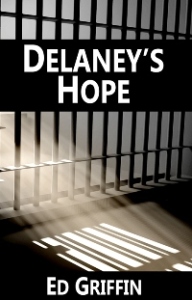 Delaney's Hope
by Ed Griffin
Genre of this Book: social science fiction
Word count: 99,000
He never thought they'd agree. A prison without walls. Inmates managing themselves. One last chance to turn their lives around.
When warden Tom Delaney proposes a new style prison he never imagined the head of the prison board would give him funding. When he gets the green light there is only one condition-the inmates he's assigned will be the toughest, most dangerous criminals in the state.
Men and women desperate to break free from their bonds.
A sadistic prison governor with his own agenda.
And Tom Delaney, the warden who wouldn't give up.
Delaney's Hope is the story of the prison that should never have worked.
This book is available at Amazon.
Ed, how did you come up with the title for your book? Does it have any special meaning? 
I struggled for months to get a title. Finally, it became clear to me that the story was about Delaney's Hope. Would it succeed?
Who was your favorite character and why?
Mandaro. He was based on a former inmate student of mine. The man was creative and lively, but when he got out, he went back into the drug business. He was murdered. I guess Mandaro is my tribute to him.
Does your book have any underlying theme, message, or moral?
Prisons can be more effective than they are now.
What would/could a reader or reviewer say about this book that shows they "get" you as an author?
Prison reform is possible.
Give us an excerpted quote from your favorite review of this book:   
Ed Griffin, educator and author, has written a terrific book. Delaney's Hope is a novel, telling the story of a handful of inmates and a prison reformer who challenges the system. Protagonist Delaney, in that sense, reflects Griffin's own battle to bring reason and a pragmatic approach to incarceration. … Highly recommended.
Where can people learn more about your writing?   
http://www.edgriffin.net/