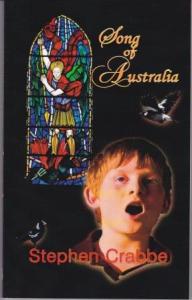 Today we have a sneak peek from Song of Australia, the historical fiction novel by Stephen Crabbe.
Song of Australia takes the reader to the home-front of the First World War to walk with remarkable characters, each struggling for acceptance. Brilliant child-musician Elsie Fischer faces hostility, not only from the community due to her German ancestry, but also from her mother. Enigmatic little Neddy, generally viewed as the village idiot, possesses exceptional musical ability that only Elsie recognises. Adolescent Edwin Argent has a pacifist inclination: he must confront his father, the church, a local bully, the government, and the pro-war convictions of the girl he loves. These and other characters link three enthralling stories with timeless themes.
Song of Australia is available at Amazon.com and Amazon UK.

Here is an except from Song of Australia…