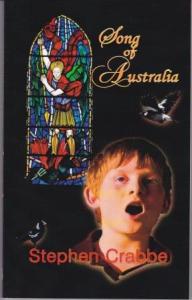 Today we have a sneak peek from Song of Australia, the historical fiction novel by Stephen Crabbe.
Song of Australia takes the reader to the home-front of the First World War to walk with remarkable characters, each struggling for acceptance. Brilliant child-musician Elsie Fischer faces hostility, not only from the community due to her German ancestry, but also from her mother. Enigmatic little Neddy, generally viewed as the village idiot, possesses exceptional musical ability that only Elsie recognises. Adolescent Edwin Argent has a pacifist inclination: he must confront his father, the church, a local bully, the government, and the pro-war convictions of the girl he loves. These and other characters link three enthralling stories with timeless themes.
Song of Australia is available at Amazon.com and Amazon UK.

Here is an except from Song of Australia…
Edwin and Elsie sat among ten adults in Mr Krause's study. She marvelled at all the overloaded bookshelves lining the room. The windows were open to admit a cool slight breeze near the end of a mid-summer day. Honeyeaters chittered loudly in the garden as the lecture began.
'Good afternoon, ladies and gentlemen.' The lecturer smiled and surveyed his audience.
She watched his face and the old words chattered rhythmically through her mind. Green and blue his sharp eyes twinkled, like a candle flame where salt is sprinkled… She tried to stifle a smile. Yes, definitely the Pied Piper of Hamelin.
'One of the main obstacles to international understanding and peace in the world is the multiplicity of languages. Ladies and gentlemen, Esperanto is the solution to this problem. It is a language like no other.' Mr Krause's long fingers fluttered as he spoke. 'I am fluent in several languages, and after teaching Esperanto for several years I can assure you it is learnt in far less time than any of the others—because from its beginning it was planned.' He raised a forefinger and gave a conspiratorial wink. 'Be warned! Some say it is evil.'
Elsie inhaled sharply. There was that flutter of excitement in her chest again. As he scribbled on a blackboard to show how the language was built, she felt as if she were expanding out through the windows and into a world where horizons beckoned.
The sun was setting as she and Edwin neared home. He looked at her. 'So shall we take up his offer of lessons?'
'Yes, yes!'
Father had no objection to her weekly Esperanto lessons with Edwin as long as she did not come home late. After meeting Mr Krause at church he considered him honest and intelligent, if rather odd, and the fee was absurdly small.
'But Elsie, my darling…' His tone was serious. 'You won't let this new interest take time from your piano practice, will you?'
'Of course not—music is my life! By the way, I have good news. Mrs Radcliffe has asked me to accompany the choir at the Anzac Day commemoration in April!' Elsie grimaced. 'Surprising though—from the way she criticises my playing every lesson you'd think I was hopeless.'
'Oh, well done darling!' Her father hugged her.
The East Adelaide Chorale, which Mrs Radcliffe usually accompanied, was to sing at the commemoration service but she wanted to accept an invitation to play at the more prestigious service under the auspices of the Lord Mayor, to be held at the same time. 'I've asked other respected pianists in this part of town but they are very busy. My girl, I'm offering you a chance to perform in public. It will be an incentive to improve your skills and maybe lay the foundations of a reputation. Can you rise to this challenge?'
Yes, after all those cross remarks during lessons and insisting again and again that Elsie change how she played this passage and that, old Mrs Bone-bag begrudgingly admitted her student's ability. Of course, she was desperate to find someone to take her place.
.
---