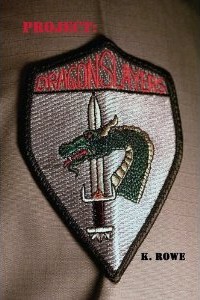 Project: Dragonslayers
by K. Rowe
Genre: Military thriller
Word count: 201,000
US Air Force Lt. Col. Eagle Tryggvesson got more than she bargained for when she tangled with Navy Rear Admiral Richard Westland over a proposal for an elite Special Forces unit. Eventually losing the battle, Westland swore that she would fail- he would make certain of that. Eagle must fight against discrimination and corruption to put her highly unorthodox team together. She arrives at China Lake Naval Weapons Station to find the beginnings of Westland's sabotage. It would be up to her and the members of her team to beat the deck that had been stacked against them.
Her second in command is the handsome and brilliant Maj. D.M. Elliott who falls in love with her despite their difference in rank and the prohibitive chain of command. They must work together to keep their team and their love alive. The team battles terrorists, violent gang members, and their own personal demons along with the frightening bouts of Post Traumatic Stress Disorder that haunt many warriors.
This book is available from Amazon, Smashwords, and Barnes & Noble.