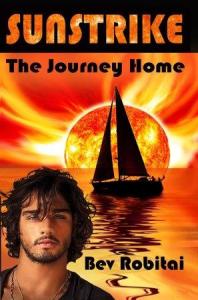 Sunstrike: The Journey Home
by Bev Robitai
Genre: Post-apocalyptic/adventure
86,000 words
Bradley Brown knows how to make the most of life. At 22, he is living the dream working as a dive instructor at a luxury resort in Bali. But his carefree lifestyle ends when the island's electricity goes dead. After several days it becomes apparent this is no ordinary power outage. A massive solar storm has wiped out electrical technology across the globe, leaving Bradley stranded a very long way from home.
His thoughts turn to his widowed mother back in New Zealand. Completely out of contact and worried she may need his help, he sets off on a long and difficult journey using any means of transport available. The world is different now; he faces unexpected dangers and treachery, growing up a little more with each new setback.
Will Bradley make it across the Tasman Sea to New Zealand, and will he be ready for what he finds when he gets home?
Sunstrike: The Journey Home is available at Amazon.com, Smashwords, and Amazon UK. Continue reading "Book Brief | Sunstrike: The Journey Home"