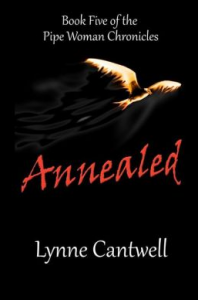 Annealed: Book Five of the Pipe Woman Chronicles
by Lynne Cantwell
Genre of this Book: urban fantasy/paranormal romance
Word count: 56,856
It's zero hour…
Naomi has just two weeks to find a new home for Joseph's grandfather. The old Ute shaman is fighting for his life against a mysterious injection of toxin he received at the hands of the Norse Trickster god Loki. If Naomi is to defeat Loki once and for all, she must learn what it is he seeks under the old man's wickiup.
She has just one week before she must mediate between the Earth's pagan gods and goddesses and the Christian God. If her efforts fail, all of humankind will suffer the consequences.
And her baby is due any day.
In this, the fifth and final book of the Pipe Woman Chronicles, Naomi is in a race against the clock to balance the demands of her body, her family, and her friends – and she must do it while the whole world is watching.
This book is available from Amazon, Smashwords, and Barnes & Noble. Continue reading "Book Brief: Annealed"