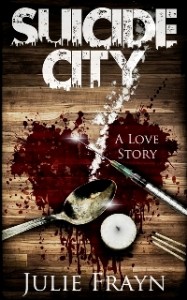 Suicide City, a Love Story
by Julie Frayn
Genre of this Book: Contemporary Fiction
Word count: 75,000
Sixteen-year-old August Bailey fantasizes about an apartment in the city, not a tiny house on an Iowa farm. During another fight about makeup and boys, August's controlling mother slaps her. And August hops the next bus out of town.
She arrives in the city to discover that reality and fantasy don't mix. When her money runs out, she is 'saved' by seventeen-year-old Reese, a kind boy with electric eyes and a gentleman's heart. Reese lives on the streets. Each day is a struggle to make the right choice.
August falls in love with Reese, and knows her love can save him. She breaks down his emotional walls and he tells her his secrets – of abuse and the truth about his mother's death.
As Reese's feelings for August grow, so does the realization that keeping her could ruin her life too.
This book is available from Amazon, Smashwords, and Barnes & Noble.
How did you come up with the title for your book? Does it have any special meaning?
The title and story came from a 'what-if' moment I had while waiting for a train. The title and cover (which won double-gold medals in the Authorsdb.com 2013 cover contest) speak of the mean city, of dead-end choices, and the finality of the consequences those choices bring.
Who was your favorite character and why?
Reese, a seventeen year-old drug addicted prostitute who cuts himself, is a damaged young man with the world's worst mother. I want to adopt him, show him what a good home is, swaddle him in bubble wrap and heal him. I love that boy. Like a good mother should.
Does your book have any underlying theme, message, or moral?
There was no intentional moral, but the story is filled with messages. To quote August's mother in the book, "Be careful what you wish for, child. The grass always looks greener on the other side. Until you get there and find out it's just Astroturf."
What would/could a reader or reviewer say about this book that shows they "get" you as an author?
This author pulls no punches and spares no details. The book is a realistic, gritty view of what life holds for many homeless young people, filled with sympathetic characters and a palpable sense of place.
Give us an excerpted quote from your favorite review of this book: 
"…the skill with which she paints a dead-end world makes it astoundingly, skin-crawlingly, vivid."
Where can people learn more about your writing?