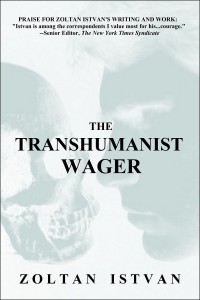 Today we have a sneak peek from The Transhumanist Wager, the visionary fiction novel by Zoltan Istvan.
The Transhumanist Wager is a seminal statement of our times. Set in the present day, the novel tells the story of transhumanist Jethro Knights and his unwavering quest for immortality via science and technology. Fighting against him are fanatical religious groups, economically depressed governments, and mystic Zoe Bach: a dazzling trauma surgeon and the love of his life, whose belief in spirituality and the afterlife is absolute.
This book is available from Amazon and Amazon UK.
Here is an excerpt from The Transhumanist Wager…