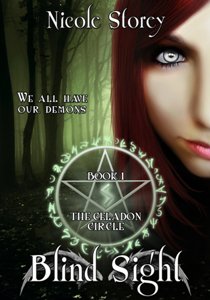 Blind Sight (The Celadon Circle)
by Nicole Storey
Genre: YA Paranormal
Word count: Approx. 73,000
Jordan has visions of monsters, demons, and death. Seventeen, orphaned, and born into the family business, she doesn't have friends, she doesn't have choices. Her uncle, older brothers, and a few annoying angels dominate her life, demanding she tow their lines – and the punishment is severe when those lines are crossed.
When Jordan is ordered to help hunt down a monster, she's not sure which she dreads more: the elusive, blood-thirsty creature or spending time in a cramped backwoods cabin with a brother who despises her. To make matters worse, a demon shows up and warns Jordan that she could be her family's next assignment.
In a game between Good and Evil where God seems to have tapped out early, lines are blurred and not everything is as it seems. Jordan learns a little too late that the real monster is closer than she thinks.
This book is available from Amazon, Smashwords, and Barnes & Noble. Continue reading "Book Brief: Blind Sight"