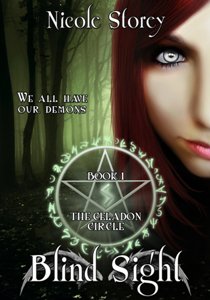 Blind Sight (The Celadon Circle)
by Nicole Storey
Genre: YA Paranormal
Word count: Approx. 73,000
Jordan has visions of monsters, demons, and death. Seventeen, orphaned, and born into the family business, she doesn't have friends, she doesn't have choices. Her uncle, older brothers, and a few annoying angels dominate her life, demanding she tow their lines – and the punishment is severe when those lines are crossed.
When Jordan is ordered to help hunt down a monster, she's not sure which she dreads more: the elusive, blood-thirsty creature or spending time in a cramped backwoods cabin with a brother who despises her. To make matters worse, a demon shows up and warns Jordan that she could be her family's next assignment.
In a game between Good and Evil where God seems to have tapped out early, lines are blurred and not everything is as it seems. Jordan learns a little too late that the real monster is closer than she thinks.
This book is available from Amazon, Smashwords, and Barnes & Noble.
Nicole, how did you come up with the title for your book? Does it have any special meaning?
I like titles that are mysterious. They entice readers to pick up books and learn more about them. The title, Blind Sight, is significant to several characters and events in the story, yet gives nothing away.
Who was your favorite character and why?
Although she was not a main character, I really like Wendy. Overweight and bullied for most of her life, she struggles to see her own worth. It isn't until she is faced with having to save lives that she discovers just how strong she really is.
Does your book have any underlying theme, message, or moral?
The theme of my book is that we all have demons in our lives – nobody is perfect. It's how we deal with them that make us who we are.
Perspective also comes into play in the story. Everything we see is perspective and not necessarily the truth.
What would/could a reader or reviewer say about this book that shows they "get" you as an author?
I think they would say that I'm not afraid to take chances. I don't color between the lines or write what is considered "acceptable" to the masses. My characters are real, and they express doubts that most people are hesitant or ashamed to concede.
Give us an excerpted quote from your favorite review of this book:
"Books with kick-butt heroines are a dime a dozen these days, but this book rises far above the rest. And, it's all due to the flawless writing and the brilliant characterization."-Author Tricia Drammeh
Where can people learn more about your writing?
http://www.nicolestoreyauthor.com/