Looking for a unique, monsterly-fun YA paranormal? Love rooting for scrappy heroes facing impossible odds? Want a YA urban fantasy free of vampires, werewolves and fairies? The Matt Archer series is a fast-paced, action-packed romp with funny asides, a little bit of romance and tons of suspense. Follow Matt as he grows–in some cases, literally–into the monster hunter, soldier and man he's destined to become. An unlikely hero. A dangerous double-life. An awesome reading experience.
The Matt Archer Series by Kendra C. Highley
Coming in January 2014: Matt Archer: Bloodlines, book 4 in the Matt Archer Series.
Join the hunt!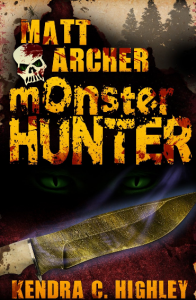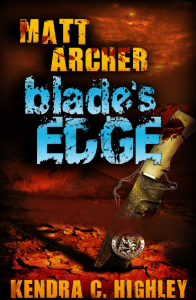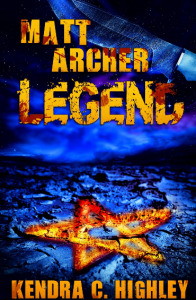 Matt Archer: Monster Hunter
(Matt Archer #1)
Available from:
Amazon
,
Barnes & Noble
,
Kobo
Fourteen-year-old Matt Archer is forced to kill a strange creature to save his uncle. Now Matt's part of a world he didn't know existed, working with a covert military unit dedicated to eliminating walking nightmares. Faced with a prophecy about a looming dark war, Matt soon realizes his upcoming Algebra test is the least of his worries.
His new double life leaves Matt wondering which is tougher: hunting monsters or asking Ella Mitchell for a date?
Matt Archer: Blade's Edge (Matt Archer #2)
Available from: Amazon, Barnes & Noble, Kobo
When Matt Archer was fourteen, he discovered monsters are real. As if that wasn't enough to go on for a few decades, Matt also found out that he'd been chosen to hunt those monsters–with a sentient, supernatural knife.
When stories of decimated towns and hordes of zombies start pouring into the Pentagon from Afghanistan, Matt knows he'll be called up soon. Between the new mission and the knife's increasing control over his mind, Matt wonders if he'll survive long enough to take his driver's exam.
Matt Archer: Legend (Matt Archer #3)
Available from: Amazon, Barnes & Noble, Kobo
Now Matt's sixteen and the war has cost him more than he ever thought it would. Then things get worse: the next lunar eclipse cycle is starting, a prominent physicist has gone missing, and Matt's best friend is thinking about quitting the team. If he loses Will—after everyone else he's lost—Matt's not sure how he'll fight alone.
As the source of his nightmares starts to creep out of the shadows, Matt knows he'll need all the help he can get…because being alone could prove deadly.