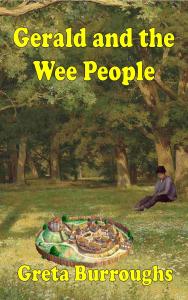 Today, we feature a sneak peek of Greta Burroughs' young adult fantasy novel, Gerald and the Wee People.
Two teenagers respond to a plea for help and literally fall into another world. They become involved in a war and invent some clever plans to temporarily prevent the enemy from entering the village of the wee people. Time is running out, the gates are getting weaker and the weapon stash is dwindling. Something else has to be done to stop the war.
Gerald, Vernon and six companions embark on a quest to defeat the crazed forest god who is set on destroying all the inhabitants living on that world. They follow a path described in an old prophecy but things do not go as planned.
Gerald and the Wee People is available through Amazon.com, Amazon UK in print and for Kindle, Smashwords and at Barnes & Noble.
Here is an excerpt from Gerald and the Wee People: Continue reading "Sneak Peek: Gerald and the Wee People"