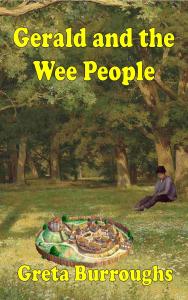 Today, we feature a sneak peek of Greta Burroughs' young adult fantasy novel, Gerald and the Wee People.
Two teenagers respond to a plea for help and literally fall into another world. They become involved in a war and invent some clever plans to temporarily prevent the enemy from entering the village of the wee people. Time is running out, the gates are getting weaker and the weapon stash is dwindling. Something else has to be done to stop the war.
Gerald, Vernon and six companions embark on a quest to defeat the crazed forest god who is set on destroying all the inhabitants living on that world. They follow a path described in an old prophecy but things do not go as planned.
Gerald and the Wee People is available through Amazon.com, Amazon UK in print and for Kindle, Smashwords and at Barnes & Noble.
Here is an excerpt from Gerald and the Wee People:
This time it was no illusion. The walls burned their hands; the hot air burned their throats. The floor was sticky with some kind of hot substance, burning their feet through their shoes.
They began to hear a distant sound like the laughter they had heard earlier. Cian fell to his knees and cried out in pain as the scalding liquid burned his skin. "I can't go on, just leave me here to die," he screamed.
Tomas reached out to his brother trying to help him up. It was no use; he was too weak and exhausted. In a very weak voice he said, "You all go on. I'll stay with Cian. I can't go another step anyway."
No one else said a word. The others were too tired to talk, too tired to walk, too tired to care.
This was not supposed to be happening. Gerald did not remember this from his nightmares. Something was wrong.
He yelled to whoever was listening, "Did we take a wrong turn or something? Stop it Miach, stop it. You want me, leave my friends alone."
That just made matters worse. The scampering, unseen creatures came out of nowhere. They did not just run past this time but stayed and started pinching and biting the legs and arms of Gerald's companions.
For some strange reason though, the creatures did not bother him.
All four of his companions were down, rolling around on the ground trying to fight off the shadowy figures. The screams intensified from his friends as the burning liquid covered their bodies and the creatures' biting turned to gnawing.
Gerald could hear pieces of flesh being torn away as the other boys were being eaten alive. The laughter was all around them now bouncing off the walls and echoing through Gerald's head.
"Stop it, stop it now. Please, I'll do anything you want, Miach. Stop the noise, stop torturing my friends."
Total silence fell; all the gnawing, screaming and laughter were gone. Gerald did not know if the total lack of sound was worse than all the noise.
He noticed a light shining above him. He looked around and realized he was all alone.
A voice spoke inside his mind and said, "Anything I want, huh," followed by a soft, haunting chuckle.
---