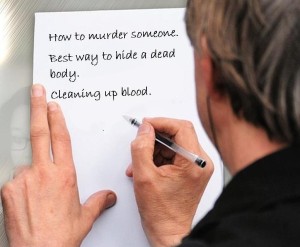 I took a day trip with the freckle-faced girl recently to the United States. We live in Canada, a few miles from the border, so occasionally Costco's ice cream or some other worthy endeavor calls to us. I'm in charge of the shopping cart duties and with some minor instruction I usually manage to fulfill my obligation. We have a Nexus pass that allows us to get into the fast lane when we cross. This makes the process easier, but, even with my youthful transgressions occurring many moons ago, and nary even a speeding ticket to my name in years, I still get a bit nervous when I reach that little window. I keep thinking there's something that I've forgotten to mention, and the border guard will click his little mouse, and check his computer screen. His eyes will light up like a UFO saucer and I'll have some explaining to do.
During this particular trip I had been pried away from the writing cave, and the events of my work-in-progress were still very much in my head. And, as my author friends know, the things we write about really are happening. If they're not happening to us then they're not going to happen for the reader. So, our stories often become our reality. In order to continue in that world and keep filling in the gaps, I had my notebook with me and I had jotted down a few ideas pertaining to my opening chapter. In the first chapter of my upcoming novel there's a dead body; someone has been murdered. So, I had jotted down questions in regards to dumping the body, whether the blood really would pool around the dead man's head in the shape of a halo, who the killer was, and why the killer had left the body for the police to find. These are all normal questions that have to be addressed over the next eighty-thousand words. And, all those normal questions were written in my handwriting on a lined piece of paper in my notebook. The same notebook that was open in the backseat as we pulled up to the border guard's little station.
What do you do? Do you quickly hide the notebook? We were in the freckle-faced girl's car and I did not have any of my books with me, so proving that I'm an author might be challenging. Do I (as one of my writer friends later suggested), add a shopping list and other mundane details to my grisly questions? Or do I put on my most innocent look and leave the pad where it is? The problem with the last option is that I really don't have an innocent look. I always look as though I'm up to something. And, quite honestly, in my mind I usually am.
I left the book where it was and (I'm sure due to the freckle-faced girl's charm), the guard waved us through. And, later that day, we were allowed back into Canada as body-dumping thoughts continued to fill my head. It made me wonder, though. I don't erase the history on my computer and I search some pretty interesting things as I create the worlds for my stories. It's never concerned me that my mind goes to dark and even darker places. My first novel dealt with child abuse and although I knew a little about the subject I wanted to make sure I got it right. It's such an important and, unfortunately for some, personal topic that in order to respect those who have had to endure the horrors of losing their childhood, I did some research. My second book dealt with the Irish Republican Army and a little-known incident that happened during the time of The Troubles. And, in my third book, I wrote about a soldier going to war and then being faced with marital infidelity when he returned. Some authors take on topics that are even weightier. Those were heavy enough for me. I have beta-readers just like everyone else, but I also utilize specialized beta-readers. So, I search out, or sometimes I'm already familiar with, readers who know these topics, and I rely on them to help me get the facts right. And, I ask questions using Google.
After publication, I've received confirmation from folks who lived the things I wrote about and fortunately my research paid off; I seem to have gotten it right. In my current novel, I'm dealing with police work and a murder as well as a very imaginative scheme. I have a couple of police personnel ready and waiting to fact-check for me and again I'll use the internet to search terms like: What does it feel like to be shot? If a head is split open on a sidewalk where would the blood run to? And other facts that will help me authenticate my story. As a self-published author I don't have a team in place to do my research. It's just part of my job.
It makes you wonder though, doesn't it? What happens if somebody looks? What happens if somebody reads that notebook and wonders what I'm up to? Think about it. What's the strangest thing you've searched for? Did you erase your history afterward?
Come on, you can tell me…